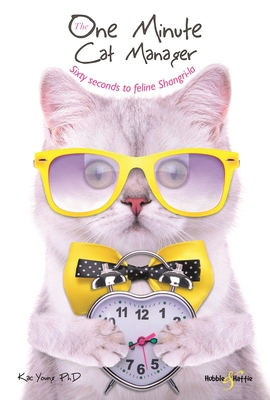 The One Minute Cat Manager (Paperback)
Sixty seconds to feline Shangri-la
Hubble & Hattie, 9781787113732, 112pp.
Publication Date: July 9, 2019
* Individual store prices may vary.
Description
The One Minute Cat Manager suggests 60-second techniques that anyone can practise with their cat. With expert  insight into the inner workings of the feline mind, and analysis of cat behaviour, this book will facilitate a deeper understanding, and stronger bond with your feline friend.

Often, people pass up the opportunity to rescue a cat because they believe they don't have the time to care for a pet. The One Minute Cat Manager shows how, by employing certain sixty-second techniques can make cat care easy for all, and demonstrates the rewards that unconditional cat-love can bring, creating a bond that will last a lifetime. Specially commissioned illustrations enhance and inform the text. Everybody wins with The One Minute Cat Manager!
About the Author
Kac Young has been a producer, writer and director in the Hollywood television industry for more than 25 years. In a varied career she also has an impressive assortment of qualifications in natural healthcare practices, and has written 15 books, including The (Supposedly) Enlightened Person's Guide to Raising a Dog, and The One Minute Cat Manager, both published with Hubble & Hattie. Kac has been a cat parent for over 40 years, researching felines, and has been closely connected to the Cornell University Feline Research Department studying cat behavior, physiology and diseases. She is the current keeper of five cats, all over the ripe old age of 14. She holds the record for raising the oldest cat in the history of the Boulevard Pet Clinic clientele in Studio City, CA. Miss Lucy lived to be 24 years old. Kac is also active on behalf of animal rights, and fostering and preserving women's rights.