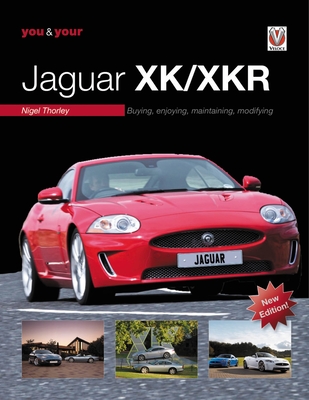 You & Your Jaguar XK/XKR (Hardcover)
Buying, Enjoying, Maintaining, Modifying - New Edition
Veloce Publishing, 9781787113923, 232pp.
Publication Date: February 26, 2019
Other Editions of This Title:
Hardcover (10/30/2015)
* Individual store prices may vary.
Description
New updated and enlarged edition! Jaguar's XK sports models were produced from 1996 to 2014 in two distinct forms: the original, steel-bodied cars and the later advanced technology aluminium-bodied versions. Highly significant for Jaguar, these cars reintroduced the world to Jaguar sports car motoring and, in doing so, echoed the success of previous icons, such as the E-type. With no plans from Jaguar for a direct replacement, the XK and XKR are guaranteed to become much sought after models, which are already attracting keen interest from driving enthusiasts. You & Your Jaguar XK/XKR is the only current title covering the whole model range in precise detail, and is a vital read – both to those who currently own an XK, and anyone contemplating purchasing one. This is a book that will interest all Jaguar enthusiasts and those interested in the history of Jaguar and its cars – the perfect XK 'handbook.'
About the Author
Nigel Thorley is a well-regarded motoring historian with a particular interest in the Jaguar marque. Having owned sixty-one examples of the brand since the age of 17, including 16 MkIIs, his knowledge and expertise of these cars is second to none. Nigel has written twenty titles on the marque, has contributed to TV and radio programmes, regularly provides talks and seminars on the models, and is a prominent founder member of the Jaguar Enthusiast's Club. He also edits their prestigious monthly magazine, Jaguar Enthusiast.