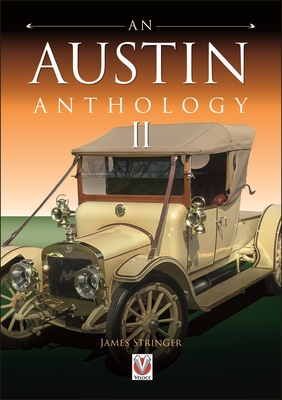 An Austin Anthology II (Hardcover)
Veloce Publishing, 9781787114265, 112pp.
Publication Date: June 18, 2019
* Individual store prices may vary.
Description
Following on from Jim Stringer's first book An Austin Anthology, this second volume features 20 more stories relating to the Austin Motor Company, its products and the people who purchased them.

The author takes a look at the very first Austin to be built, and discovers why it was able to be offered to the public so quickly after the Company's formation only a few month's earlier. He also uncovers how the single-cylinder Austin Seven, whilst designed at Longbridge, was actually built at the Swift Motor Car factory in Coventry, and offered as a Swift or an Austin. In 1908 Herbert Austin produced four 100hp racing cars to compete at the French Grand Prix in Dieppe. But what happened to them afterwards? And is the only survivor, now on display at the British Heritage Museum, Gaydon as genuine as it would appear?

And then there is the story of Daisy Fearon, whose only means of transport was a 1928 Austin which she'd owned since 1931. As Daisy aged, her driving became less and less predictable, causing those who knew her to run for cover when she was seen at the wheel.

An amusing and nostalgic collection of stories, illustrated with original period photographs, An Austin Anthology II is bound to entertain and delight all Austin enthusiasts.
About the Author
James 'Jim' Stringer was born in Shepherd's Bush in January 1943. After leaving school in 1958, he took up a Mechanical Engineering Apprenticeship with London Transport. Around this time he bought a vintage Austin car, and became a member of the Vintage Austin Register. He very soon became involved in the running of the Register, from initially helping with the first Newsletter, to becoming the Hon. Sec, and then Chairman. Although retiring from this role after 16 years, two years later he took on the job of producing the Register's glossy quarterly magazine as its Editor. Jim also had a fascination with the steam locomotives of the London Underground system, so when they were being withdrawn for scrap, Jim managed to purchase one that had been built at Neasden in 1898. That locomotive, 'Metropolitan No.1' is now frequently seen operating on preserved lines throughout the UK, and also back on London Underground metals. Jim retired in 2008 after attaining the position of Safety, Quality and Environment Manager for the Central Line. Since then he has turned his attentions to compiling and writing the Austin Anthologies.
Jim's love affair with Austins started as soon as he was born, when he was brought home from the hospital through the debris-strewn streets of West London in the comfort and safety of a 1935 Austin Taxicab, owned by a neighbour. As soon as he was old enough to drive, much to his father's dismay, he bought a 1929 Austin 16/6 with rare 'Fabric' Saloon coachwork, for the princely sum of £35. Despite being told NOT to put the car in the garage, Jim defied his father and almost destroyed the doors at the far end of it when putting the car away for the first time, having depressed the accelerator pedal instead of the brake. That same Austin still holds pride of place in the Stringer household to this day. During the years that Jim worked with the Austin Register and its magazine, he started to undertake research into many hitherto untold stories concerning Austin vehicles and aeroplanes and of course the people who purchased them, drove them, flew them, or were simply involved in their manufacture. It is these stories which form the basis of this second anthology, added to which are a couple of humorous items taken from contemporary Austin Journals.