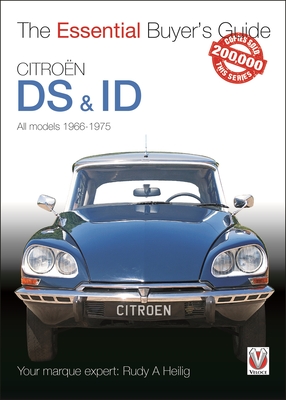 Citroen DS & ID (Paperback)
All models 1966-1975 (Essential Buyer's Guide)
Veloce Publishing, 9781787114470, 64pp.
Publication Date: April 2, 2019
* Individual store prices may vary.
Description
Buying a classic car is an expensive business, and mistakes can prove costly financially and in terms of time, effort and stress. Wouldn't it be great if you could take an expert with you? With the aid of this book's step-by-step guidance from a marque specialist, you can! The Citroen DS & ID Buyer's Guide aims to guide collectors, restorers, and enthusiasts through the various production changes and problem areas between model years to make sure their restoration or prospective purchase is correct, original, and legitimate. The guide will be an essential reference tool when buying, selling, repairing or restoring the various D-models manufactured between 1966 and 1975. This books unique points system will help you to place a car's value in relation to its condition, while extensive photographs illustrate the problems to look out for. This is an important investment -  one hundred colour photos, useful appendices and expert advice mean this book could save you thousands.
About the Author
Rudy Heilig has spent his life around Citroens.  His father, Hank Heilig, owned a Citroen dealership in Vancouver, British Columbia, in the 1970s. In his early teens, prior to even having a driver's license, Rudy could frequently be found in the dealership's garage tinkering with a Citroen D-model. Rudy followed his father's livelihood – first becoming a mechanic at his father's garage before eventually forming Citroen Concours of America in San Diego, California USA – a company devoted to all aspects of the Citroen automobile.  He also started publishing CITROEN - a technical/informational newsletter in the early 1990s and continues to be its chief contributor, editor and publisher to this day.