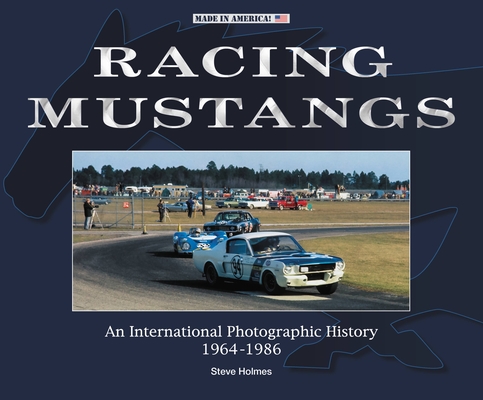 Racing Mustangs (Hardcover)
An International Photographic History 1964-1986 (Made in America)
Veloce Publishing, 9781787115118, 176pp.
Publication Date: August 18, 2020
* Individual store prices may vary.
Description
Virtually from the moment of its launch in April 1964, the Ford Mustang has been a favorite among road racers. From the Tour de France, to production sports car racing, the SCCA Trans-Am series, regional and national A/Sedan competitions, and international and domestic sedan championships in Great Britain, Europe, Australia, and New Zealand, the Mustang has enjoyed a following like few other models.

Racing Mustangs is a photographic celebration of road racing Mustangs throughout the world. It focuses on production-based cars, rather than the heavily modified tube-frame silhouette machines that began appearing in the late 1970s. Included are images of big-budget factory-supported cars competing in the Trans-Am series, right through to low-buck independents, and cars competing throughout the world.

Using only period images, including countless photos that have never before been published, this is a true photographic history, depicting the global popularity of the Ford Mustang as a road racing car.
About the Author
Steve Holmes was born in Palmerston North, New Zealand. His fascination with motoring and motorsport dates back to his youth. He has a High School Certificate education, but has completed various university papers and practised various trades, including marketing and MIG/TIG welding. Steve began racing Karts at the age of 16, and continued until he moved to London, England, at age 21, where he lived for two years. He took an interest in motorsport history as a teenager, and has since written numerous magazine articles and books on the subject, and is involved in running a historic racing category in New Zealand. He is in the process of building an FIA Appendix K 1967 Pontiac Firebird for historic racing, and he and his British born wife are looking to move to Europe in the near future. Steve runs a motorsport history and discussion forum called The Roaring Season: www.theroaringseason.com  He was recently accepted as a member of the Guild Of Motoring Writers.