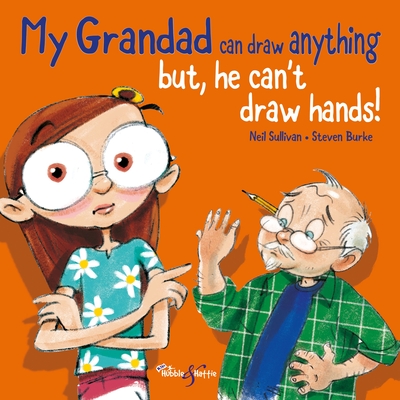 My Grandad Can Draw Anything (Hardcover)
BUT he can't draw hands!
Hubble & Hattie Kids, 9781787115156, 36pp.
Publication Date: January 7, 2020
* Individual store prices may vary.
Description
It seems all children love scribbling, drawing, colouring-in and expressing themselves through art. Not all children grow out of this passion: Chloe's Grandad, Neil, certainly didn't.

Chloe loves nothing better than watching her Grandad scribbling away at the kitchen table. It's like he can draw just about anything, well, anything except hands, that is. Chloe finds it most amusing watching Grandad nearly pulling his hair out with frustration trying to draw hands. They always turn out wobbly!

In fact this book was inspired by these real artistic gatherings of Chloe and her Grandad at their kitchen table, happily drawing.

Steve Burke has brought this funny and charming story to life with his hilarious caricatures of Chloe and her Grandad. See how his beautiful illustrations and the author's hilarious rhymes tell the story of Grandad, the great artist, and how he finds himself in a right royal pickle when he is asked to draw The Queen performing her famous royal wave. You've got to hand it to Chloe's Grandad because you'll laugh out loud when you see how he cleverly draws his way out of trouble and into Her Majesty's favour.
About the Author
Neil Sullivan has over 25 years experience in the advertising industry as a copywriter and art director, creating hundreds of funny TV ads. Neil has always had a keen interest in writing and drawing funny kids' books and cartoons. He uses his insightful advertising communication skills to connect with parents and children alike. All his Ollie And Nina And stories are based on insightful truths with a teeny bit of artistic license thrown in for added humorous effect. Neil likes to observe the silly doggie things Ollie and Nina do, and uses that as inspiration to create his hilarious cartoon strips.
A graduate of Leeds Polytechnic in the mid 1980s, where he studied Graphic Design and Illustration, Steven Burke has gone on to to forge a career within the graphic design industry as a Senior Designer Visualiser with one of the leading design consultancies in his native northeast of England, and he works on a variety of projects for national and international household names. Steven has the ability to work in a variety of styles, both conventional and digital, but still feels he is searching for the style that would suit him best. Often inspired by both the traditional and new, he feels that we are never too old to learn new methods and techniques of working. Steven met Neil Sullivan when they were both at art college in Durham, and they have collaborated on two children's books: The Little House that Didn't Have a Home, and My Grandad Can Draw Anything - but He Can't Draw Hands!