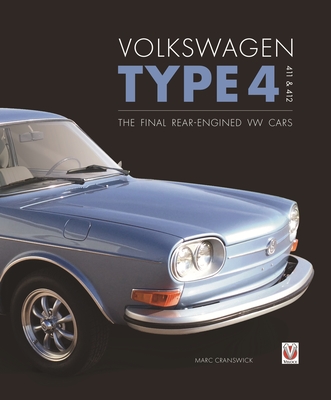 Volkswagen Type 4 - 411 and 412 (Hardcover)
The Final Rear-Engined VW Cars
Veloce Publishing, 9781787115224, 192pp.
Publication Date: June 16, 2020
* Individual store prices may vary.
Description
What kind of car is that? It looks like a big Beetle! If ever there was a car in search of a context and market, it was the VW Type 4. Volkswagen's first foray into the upscale sector brought engineering innovation to Wolfsburg. It also tried to convince worldwide buyers that VW still had the right stuff. With design origins in the Porsche consultancy, the signs were hopeful. However, globally, the automarket was rapidly changing.

The VW Type 4's portfolio ran to unitary construction and fuel injection, but had to face fancy competition from Detroit's European subsidiaries. All the while, VW was searching for its future road, and faced challenging developments. The fuel crisis and Japanese competition in North America kept the pressure on at Wolfsburg.

Could the VW 411 and 412's solid traditional virtues carry the day? Then and now the Type 4's unbreakable VW quality, and flat out sustainability, appealed to air cooled devotees. The 411 and 412 brought a new dimension in comfort to VW, and its hardware design was utilized by the air cooled clan both on and off road. The Type 4 even had a sports car connection, and never lost the power to surprise.
About the Author
Marc Cranswick has had a lifelong interest in cars and all things mechanical, and has written about and drawn the cars that he loves for many years; these include a variety of European, Japanese and American marques. Formal study of the postwar American car market has led to a series of books about the cars and trucks of the Big 3 and independent automakers. He writes enthusiast-directed model history books, and has involvement with many specialist car clubs. His reference book The Cars of American Motors – An Illustrated History, was featured on NBC's business channel CNBC. His other books include Ford Mustang II & Pinto (as seen on channel PBS' MotorWeek); Ford Midsize Muscle - Fairlane, Torino & Ranchero; BMW Classic 5 Series 1972 to 2003; MOPAR Muscle - Barracuda, Dart & Valiant 1960-1980; Mazda Rotary-Engined Cars, and Pontiac Firebird - The Auto-Biography.