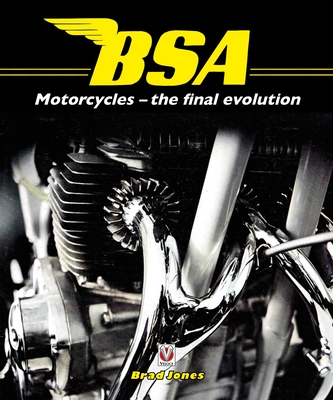 BSA Motorcycles - The Final Evolution (Classic Reprint) (Paperback)
Veloce Publishing, 9781787115484, 144pp.
Publication Date: December 31, 2019
* Individual store prices may vary.
Description
New paperback edition!

Presented for the first time in one book, the new-for-1971 range of BSA and Triumph motorcycles, including the 350cc DOHC twins, the innovative Ariel 3 moped, projected D18 Bantam, and the X-75 Hurricane, are all detailed in depth, along with related promotional and racing activities. Photoshoots, the lavish series of brochures and ads that emanated from them, and projected and actual color schemes, are also presented with great accuracy.         
   
By delving into the archives of several historical institutions, a comprehensive account of the hitherto largely ignored massive infrastructure investment that took place at BSA's Small Heath works during much of 1970 is revealed, along with its re-organized North American setup.

Also included is an equally fresh and detailed appraisal of BSA's financial situation, from the dawn of the 1970s, until its oblivion in 1973.

Besides the many new revelations, this book contains an impressive collection of extremely rare factory photographs, many of which have never been published before, and thought to be the only copies in existence.
About the Author
Born in Oxford, England, in 1961, Brad Jones has owned, ridden and restored countless BSA and Triumph motorcycles since his first British acquisition in 1980; an ex-police BSA C15.He self-published BSA B25/B50: The Incomplete Guide, widely recognised as the most comprehensive book on its subject and sold in 12 countries. This was followed with an equally well received DVD that, while again concentrating on the 250cc and 500cc oil-in-frame singles, also featured a broad ranging interview with BSA/Triumph's Chief Stylist, Stephen Mettam.