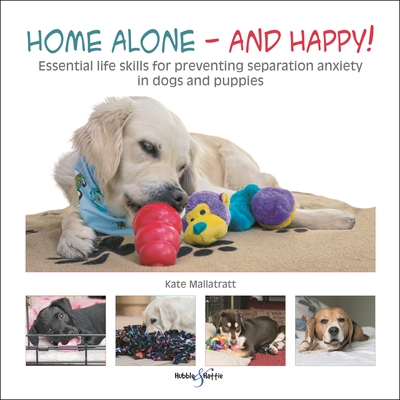 Home Alone and Happy! (Paperback)
Essential life skills for preventing separation anxiety in dogs and puppies
Hubble & Hattie, 9781787115590, 96pp.
Publication Date: November 12, 2019
Other Editions of This Title:
Paperback (6/15/2016)
* Individual store prices may vary.
Description
Why do owners wait until their dog becomes anxious when alone at home, before investing time in teaching him how to become comfortable alone? Owners often assume that their dog will sleep, yet many dogs suffer from anxiety and stress when left alone – and some owners only discover this when their dog becomes destructive, or a neighbour complains about his barking.

Home Alone and Happy! was born out of the need to educate pet owners before the problems of separation anxiety arise. Written for those who wish to maintain their dog's emotional well-being, and those who want to take action before a very mild issue grows into something more serious.

Kate Mallatratt shows you the problem through your dog's eyes when he is alone at home, and offers you valuable insight and advice to help make his time alone pleasant and stress-free. Beautifully illustrated, with worksheets to evaluate your dog's level of contentment and chart his progress, you'll learn how you can both spend quality time alone, despite being apart.
About the Author
Kate Mallatratt is a member of the International Canine Behaviourists and Pet Professional Guild for force-free training. She is degree-level qualified in Canine Behaviour Management, and runs her behaviour and training business, Contemplating Canines, in East Devon, UK. Kate is a highly experienced trainer and assessor, specialising in errorless learning: a concept she incorporates into problem prevention and enriching the home environment for the family dog. Kate has owned and trained dogs for 25 years, and is passionate about canine nutrition, having fed a raw diet to her dogs for many years. She takes an holistic approach to her own dogs, using homeopathy and chiropractic methods to maintain health and wellbeing.