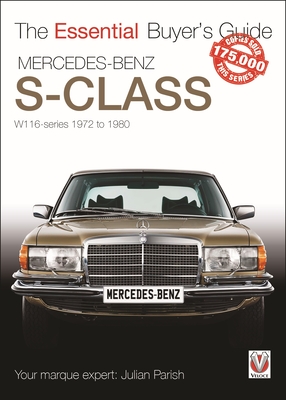 Mercedes Benz S-Class (Paperback)
W116-series 1972-1980 (Essential Buyer's Guide)
Veloce Publishing, 9781787115637, 64pp.
Publication Date: April 14, 2020
* Individual store prices may vary.
Description
An introduction to owning, driving and maintaining a Mercedes-Benz Second Generation S-Class (W116), and a step-by-step guide to evaluating one for purchase. Mercedes Benz S-Class includes colour photos of what to look for and what to avoid, plus a realistic assessment of running and restoration costs, and market values. This includes servicing costs, spare parts prices, and the relative values of the various models, specifications and vehicle conditions you are likely to encounter.

Written in an easy to follow, jargon-free style, this book will equip you with all you need to know to buy the Mercedes W116 of your dreams.
About the Author
Julian Parish hails from the south of England, but has now lived and worked in France for many years. After a career in publishing and international software development, Julian now contributes regularly to magazines including Classic & Sports Car, and translates motoring content from French and German into English. He has both written and translated several of Veloce's Essential Buyer's Guides, mainly concentrating on the Mercedes-Benz marque, for which he has a particular passion. He has also written the popular travel guides France: The Essential Guide for Car Enthusiasts and The Essential Guide to Driving in Europe, also published by Veloce. Julian is a member of the Guild of Motoring Writers.