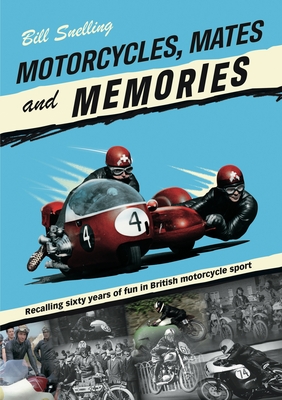 Motorcycles, Mates and Memories (Paperback)
Recalling sixty years of fun in British motorcycle sport
Veloce Publishing, 9781787115811, 202pp.
Publication Date: August 18, 2020
* Individual store prices may vary.
Description
Bill Snelling reflects on his lifetime passion for two-wheeling in this entertaining, motorcycle-themed autobiography. He recalls the decades of motorcycling mayhem, mud and madness that have characterised his 70-odd years living the dream, from the early days at Arthur Lavington's Velo shop to pounding the long-distance trials and the many race circuits he has ridden. Bill admits he was better off-road than on tarmac, but, he did win one race! He went on to work for Motorcycle Sport magazine, and as a despatch rider, before moving permanently to the Isle of Man.

Motorcycles, Mates and Memories is a great read for anyone interested in British motorcycle sports.
About the Author
Bill Snelling was unexpectedly born in Tunbridge Wells to a Maidstone family for whom a motorcycle combination was a way of life. He went to work at Arthur Lavington's Velo shop at the age of 15, getting a thorough grounding in all things Veloce, including the LE (which he hated!). Bill rode long-distance trails (mainly on Velo) with a fair degree of success, then branched into racing, also Velo-mounted. Bill has now written several books on the TT, worked as a columnist for Motorcycle Weekly, and is a photo archivist and TT/MGP historian. He  has now lived on the Isle of Man for over 40 years, is married, and tries to relive his motorcycling youth at every opportunity!