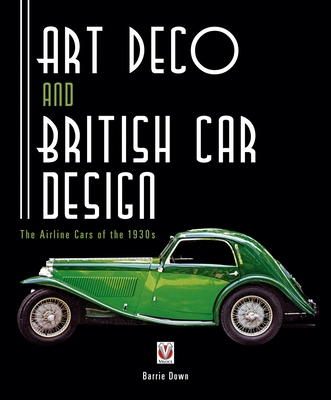 Art Deco and British Car Design
The Airline Cars of the 1930s
Paperback

* Individual store prices may vary.
Other Editions of This Title:
Paperback (7/15/2012)
Description
Art Deco and British Car Design is a book about automotive styling, in particular the streamlined styling that defined what are now known as Airline cars. During the mid-1930s, the majority of British car manufacturers and coach builders experimented with streamlined styling. This fashion was the result of Art Deco, an international movement that influenced design and marketing in many different industries, and produced some of the most unique and visually exhilarating cars ever produced in Britain.

Part One of the book explains and illustrates the Art Deco styling elements that link these streamlined car designs, and describes their development, their commonality, and their unique aeronautical names. The stories of the individual cars, their designers, and their development, are told in Part Two. Here, Barrie Down has collected examples of all the significant British streamlined production cars made between 1933 and 1936, many of them still represented by beautifully restored survivors.

The book is well illustrated with over 200 contemporary pictures and colour photographs of existing cars, many of which have never before been published. Art Deco and British Car Design is an instructive and visual feast for all car lovers.
Veloce Publishing, 9781787116221, 144pp.
Publication Date: February 11, 2020
About the Author
Barrie Down has had a fascination with cars from as early as he can remember, and his childhood drawings were almost exclusively cars, cars, and more cars. Those he owned as an impecunious bachelor were from the 1920s and '30s, from which he gained a healthy respect for the design and quality of vintage and thoroughbred cars. After emigrating to Canada in 1964, he spent more than 20 years in the industrial design field, concerned primarily with transportation design. From his art historian wife, he learned to link design and social history, and discovered that the design of the cars he loved were strongly influenced by Art Deco.