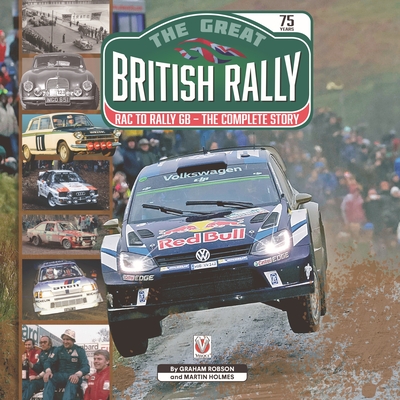 The Great British Rally
RAC to Rally GB - The Complete Story
Paperback

* Individual store prices may vary.
Other Editions of This Title:
Hardcover (2/25/2020)
Description
Now in paperback, The Great British Rally is the complete history of British international rally events, starting with the very first RAC rally of 1932, which  included 1,000 miles of road motoring, when a mere three driving tests were needed to produce a result.

By 1951 an international permit had been achieved, a speed element was included, and the 'Rally of the Tests' ran until 1960. From 1961, the event took on a number of high-speed, loose-surfaced Special Stages, the Scandinavian influence became clear, and the event took on a World Championship qualification in 1973. In that time, competing cars had progressed from having perhaps 50bhp to at least 300bhp, and even more high-tech machines with 500bhp and four-wheel-drive would follow.

By then the RAC Rally was – and remains in its present form as Wales Rally GB – one of the three most important rallies in the world. Every 'works' team makes sure that it is represented, and it has a very important image throughout the world. Major sponsors embraced the event from the 1960s – first The Sun and Daily Mirror, then Lombard, and Network Q, and finally the Welsh government – which in recent years has become a very high-profile showcase for the world's most exciting cars. Few other British International events have such a long and distinguished record.  The 75th running of this event takes place in 2019.

With year-by-year accounts of all events in the Rally's history, copiously illustrated with period photographs, and covering the various challenges posed by such crises as foot and mouth disease, weather conditions and controversy over rules and regulations, this book is the definitive guide.
 
Veloce Publishing, 9781787117365, 224pp.
Publication Date: February 16, 2021
About the Author
After a varied career in the automotive industry, Graham Robson has gained a worldwide reputation as a motoring historian, and has more than 160  books to his credit. Born in 1936, and educated at Ermysteds Grammar School in Yorkshire, Graham then went on to study Engineering at Oxford University. He  joined Jaguar Cars as a graduate trainee, becoming involved in design work on the Mk II, E-Type and Mark X. Beginning as a hobby, he became a rally co-driver, eventually joining the Sunbeam 'works' team in 1961, and took part in rallies up to International level (once with Roger Clark), but stopped rallying by 1968. During this time, he joined Standard-Triumph in Coventry, in 1961, as a Development Engineer, mainly on sports car projects. He then ran the re-opened 'works' motorsport department from 1962 to 1965, this being the period of the birth of Spitfire Le Mans cars, TR4, Vitesse, Spitfire and 2000 rally car developments. Graham Robson's writing began with rally reports for magazines which evolved into a job with Autocar from 1965 to 1969. He was recruited back to industry at Rootes to run the Product Proving department, then after a brief period in 1972 as technical director of a safety belt company, became an independent motoring writer. Graham has lived 'by the pen' and 'by the voice', not only writing but commentating, presenting and organising events of all types.