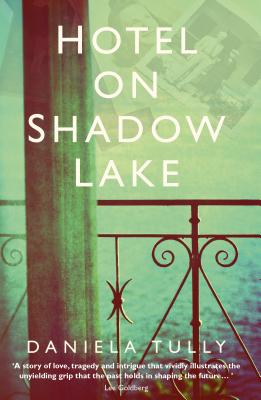 Hotel on Shadow Lake
A Spellbinding Mystery Unravelling a Century of Family Secrets
Paperback

* Individual store prices may vary.
Other Editions of This Title:
Hardcover (4/10/2018)
Description
'A captivating romantic thriller that spans decades, continents, generations and a world war'
Lee Goldberg, Bestselling author and the writer and producer of Diagnosis Murder
'A fascinating tale of what it felt like to be a woman under the Third Reich and of one family's long hidden secrets' Elisabeth Gifford
When Maya was a girl, her grandmother was everything to her: teller of magical fairy tales, surrogate mother, best friend. Then her grandmother disappeared without a trace, leaving Maya with only questions to fill the void. Twenty-seven years later, her grandmother's body is found in a place she had no connection to.
Desperate for answers, Maya begins to unravel secrets that go back decades, from 1910s New York to 1930s Germany and beyond. But when she begins to find herself spinning her own lies to uncover what happened, she must decide whether her life, and a chance at love, are worth risking for the truth.
Tully beautifully sculpts a mystery that plays with past and present, traversing war in Nazi Germany, to 1910's New York, to the present day. This part-historical part-literary novel allows us a personal look into the Third Reich through a letter from a lost twin and the reminiscences of a grandmother whose memories remain trapped in an old regime.
REVIEWS
'Had one of those opening chapters which is very memorable. I defy anyone to read it and not want to know more ... a well written, thought-provoking book' Portobello Book Blog
'A human tale of standing up for beliefs, overcoming obstacles and persisting in the search for truth' Nudge Book
'Compelling ... The secrets unfold thick and fast, taking the reader on a veritable rollercoaster ride, I certainly found myself turning the pages faster as Tully unveiled yet another revelation ... a beautiful story of love and war, of family and forgiveness' My Bookish Blogspot
'Walk through the past where love, treason and jealousy will be mixed in this beautiful story' Varietats Blogspot
'Nazi Germany provides the malevolent oxygen to a story of unrequited love, and lives tarnished by greed and loathing' Rich Reviews
'A beautifully poignant read that is steeped in history ... a historical read with a mystery twist' Dash Fan Book Reviews
'I loved Martha's heartbreaking story ... I felt an incredible connection to her ... A five star read, a book with an emotional punch and real heart' Love Books Group
'An intricate read-it-in-one-sitting mystery-cum-family saga ... this is a story about murder, greed, love (won then lost), and, above all, intrigue. Readers will be eager to see what Tully, who has worked in film and TV for many years, comes up with next' Publishers Weekly
'Believable, multi-layered characters ... The final denouement .. was very satisfying and perfectly finished off the emotional roller-coaster ride that the novel takes you on' Madhouse Family Reviews
'An engaging and beautifully told story of love and the strength of family ties which will captivate and entrance all readers' Claire Allan
Legends Press, 9781787198890, 304pp.
Publication Date: February 1, 2018