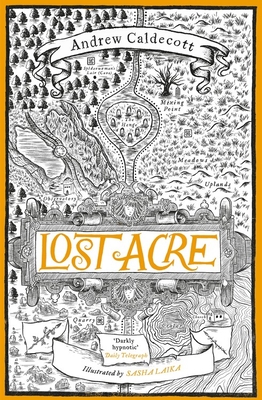 Lost Acre (Rotherweird #3)
Hardcover

* Individual store prices may vary.
Description
Wynter is here, the brilliant Elizabethan mystic has achieved the impossible and returned to present-day Rotherweird--and now his ultimate goal is within reach...
Apocalypse Now?
Geryon Wynter, the brilliant Elizabethan mystic, has achieved resurrection and returned to present-day Rotherweird. But after the chaos of Election Day, how can a stranger from another time wrest control? And for what fell purpose is Wynter back?
His dark conspiracy reaches its climax in this unique corner of England, where the study of history is forbidden and neither friend nor foe are quite what they seem.
The stakes could not be higher, for at the endgame, not only Rotherweird is under threat. The future of mankind itself hangs in the balance.
"Intricate and crisp, witty and solemn" --Hilary Mantel, Man Booker Prize-winning author of Wolf Hall on Rotherweird
Praise For Lost Acre (Rotherweird #3)…
Praise for Lost Acre

"[Lost Acre] is all truly strange, occasionally horrifying, yet humorous in a very British way, feeling like an old-fashioned classic (with more than a hint of Gormenghast, mixed with a touch of Monty Python, perhaps) with odd puzzles, divertingly eccentric characters, some deliberately bad poetry, and an elusive back history meted out in drips and drabs."

—
Carolyn Cushman, Locus MagazinePraise for the Rotherweird Trilogy
"A strange, twisting tale of dark magic and horrible experimentation...Caldecott uses parallel storylines and mysterious, absurd twists and turns to entertain, painting a tale of strange stones, a patch of starless sky, tiles that transport to other worlds, and plants with unexpected properties. The characters are vivid and complex and make up the larger character of a town that is coping with a growing menace."
—
Booklist
"Intricate...while the focus might be on the oddball inhabitants, Rotherweird is the true heart and soul of the narrative, a character in its own right."
—
Publishers Weekly
"Baroque, Byzantine and beautiful - not to mention bold. An enthralling puzzle picture of a book"
—
M. R. Carey, bestselling author of The Girl With All The Gifts
"Beautifully handled sequel that cooks up a banquet of dark delights. Once again, we are captivated by the compelling alchemy of plot, place and people: the quirks, the mysteries, the saintliness and the sheer bloody evil"
—
The Daily Mail
"To his lawyerly eye for detail he adds a conjurer's flourish in
Wyntertide
, the darkly hypnotic sequel to last year's bestseller
Rotherweird
. . . Rotherweird, Caldecott's fictional English town, has antecedents in Mervyn Peake's
Gormenghast
, C S Lewis's Narnia books and, inevitably, a certain bespectacled boy-wizard"—
Sunday Telegraph
"
Wyntertide
builds on all the best parts of its predecessor, introducing the reader to the wider history of Rotherweird, while relishing its small town drama"—
SciFiNow
"Even better than the first book . . . Seamlessly structured and reads at a galumphing pace . . . As Wynter's go, this is one cold snap that's very welcome indeed. 10/10"
—
Starburst
Jo Fletcher Books, 9781787473768, 496pp.
Publication Date: November 17, 2020
About the Author
Andrew Caldecott is a QC specializing in media law; he has represented a wide variety of clients, from the BBC and the Guardian to supermodel Naomi Campbell. An occasional playwright, he turned his hand to fiction, when informed by his love of history, which he studied at New College, Oxford, he was seized by the notion of a city-state hiding a cataclysmic secret. Lost Acre concludes the story started in Rotherweird.