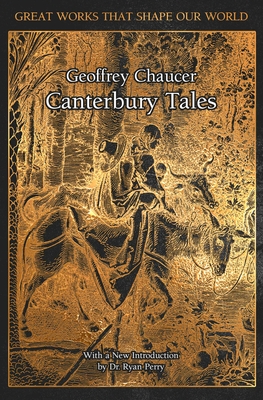 The Canterbury Tales
Hardcover

* Individual store prices may vary.
Other Editions of This Title:
Paperback (6/21/2016)
Paperback (2/24/2014)
Paperback (11/1/2020)
Paperback (5/18/2020)
Paperback (9/25/2014)
Paperback (1/24/2012)
Paperback (2/4/2003)
Paperback (8/1/1997)
Paperback (12/16/2020)
Description
Chaucer wrote The Canterbury Tales between 1387 and 1400, as a series of stories told by a group of thirty people who travel as pilgrims to Canterbury. The pilgrims come from every part of society, tell each other tales to pass the tile while they travel, offering romance, farce, philosophy, religion and satire in a ribald reflection of humankind. FLAME TREE's Great Works That Shape Our World is a new series of definitive books drawing on ancient, medieval and modern writing. Offering a fund of essential knowledge, and spell-binding stories it satisfies every facet of human interest: scientific, philosophical, sociological, romantic, dramatic and mysterious. From the ancient wisdom of the Mahābhārata to the curious power of Don Quixote, Boccaccio's Decameron and Melville's classic Moby Dick, from the scientific wonders of Isaac Newton and Albert Einstein to the great thinkers of Western and Asian philosophy. Created to entertain, inform and enrich, the new series brings infinite variety to refresh the mind, presented in beautiful editions for the modern market. Each book features a new, accessible introduction, specially written for these editions, placing the book in context both as part of the new series, and highlighting its special contribution to the advancement of human understanding; they examine the significance of each work, their impact at time of publication, and their influence today.
Flame Tree Press, 9781787556911, 576pp.
Publication Date: October 15, 2019
About the Author
Dr. Ryan Perry [introduction] is senior lecturer in medieval literature at the University of Kent at Canterbury, where he has lived since moving from Queen's University Belfast in 2011. He is a specialist in Middle English textual and manuscript cultures, and has published widely on Chaucer, on religious literature in the vernacular, and on the production of English medieval chronicles. His research focuses on the situation of texts within their material contexts; that is, within the hand-made books produced, patronised and read by medieval consumers, particularly the ways in which the people who read (and heard) Middle English texts may have responded to them, what meanings literature held for contemporary audiences, and what the books that carried these texts tell us about literary reception. Geoffrey Chaucer (c. 1343-1400), born in London, England, is often considered the greatest English poet of the middle ages and the 'father of English literature'. Throughout his life, Chaucer maintained a successful career in the civil service, including roles as a noblewoman's page, a courtier and a diplomat, and later achieved fame for his extensive body of poetry and philosophy. Perhaps the best known of these is his unfinished work The Canterbury Tales, a collection of stories told by 24 fictional pilgrims in a story-telling competition as they journey to Canterbury to visit the shrine of Saint Thomas Becket.