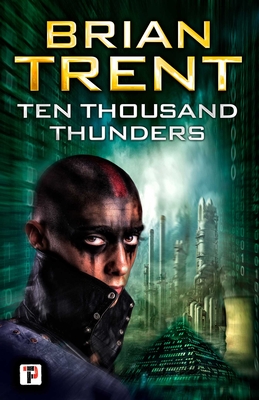 Ten Thousand Thunders (Hardcover)
Flame Tree Press, 9781787580183, 288pp.
Publication Date: October 18, 2018
* Individual store prices may vary.
Description
Welcome to Earth, the year 322 of the New Enlightenment. Having just been killed in a mysterious shuttle explosion, Gethin Bryce is back to uncover what happened. An unusually gifted investigator with the InterPlanetary Council, Gethin is tasked with seeking out the truth behind unexplained anomalies that lie outside IPC control. In the dazzling arcologies that arose from the ashes of war, death is a passing inconvenience and technology has made all things possible... except for true freedom. Humanity has colonized nearby worlds, but all are subject to the unquestioned authority of the IPC. And expansion beyond Sol is forbidden. In the world outside the arcologies, mortal life is savage and fleeting. The ruins of Old Calendar cities serve as living testaments to an age when warfare nearly extinguished the human race. The remnants of that grisly era linger in the forgotten outlands, catacombs, and diseased underdark, as the descendants of bygone warlords fight for the scraps in the shadow of the civilized world. Now, in the fourth century of a new age, war is brewing once again. A dark conspiracy is extending its reach across cities and worlds. Gethin's investigation takes him from the luxurious enclaves of Earth's elite, to the battered Wastes beyond civilization's protective thrall. Linking up with an inquiry team from a planet-spanning corporate powerhouse, he also befriends a grim and reluctant outlander. She has an important piece of the puzzle--evidence of a sadistic entity which threatens not just civilization, not just Earth, but all life... Everywhere. FLAME TREE PRESS is the new fiction imprint of Flame Tree Publishing. Launching in 2018 the list brings together brilliant new authors and the more established; the award winners, and exciting, original voices.
About the Author
Brian Trent's speculative fiction appears regularly in the world's top speculative fiction markets including ANALOG, Fantasy & Science Fiction, Orson Scott Card's Intergalactic Medicine Show, Daily Science Fiction, Apex (winning the Story of the Year Reader's Poll), Escape Pod, Flash Fiction Online, COSMOS, Galaxy's Edge, Nature, The Mammoth Book of Dieselpunk, Pseudopod, and numerous year's best anthologies. His work has been featured in several volumes of Flame Tree Publishing's popular Gothic Fantasy Series. The author of the historical fantasy series Rahotep, Trent is also a Baen Fantasy Adventure Award finalist and Writers of the Future winner. His nonfiction works have also appeared in Strange Horizons, Clarkesworld, Humanist, and UTNE. Combining a fascination for history with a unique vision of the future, Trent's novel Ten Thousand Thunders is the beginning of an exciting new science fiction universe. Trent lives in New England, where he works as a novelist, screenwriter, and poet. His website and blog are located at www.briantrent.com. AWARDS Baen Fantasy Award Finalist Writers of the Future Winner Apex Magazine Story of the Year Winner