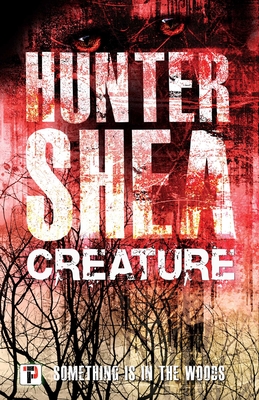 Creature (Hardcover)
Flame Tree Press, 9781787580237, 256pp.
Publication Date: September 6, 2018
* Individual store prices may vary.
Description
The monsters live inside of Kate Woodson. Chronic pain and a host of autoimmune diseases have robbed her of a normal, happy life. For ten years, she's faced surgeries, infections, been on life support and was even given last rites. She preservers, thanks to the love and caregiving of her husband Andrew and constant companionship of their old shelter beagle, Buttons. A decade has taken its toll on both of them. Andrew is burned out at work, secretly deciding to take a leave of absence. He surprises her by renting her dream lake cottage in Maine. It's beautiful, remote, idyllic, a place to heal, mentally if not physically. Kate is too weak to enjoy the beauty around them, so Andrew moves the bed into the living room where she can look out at the lake and feel the mountain air. While Andrew has to learn to relax through punishing runs in the forest and day drinking, Kate struggles to get well enough to actually partake of her fantasy house. It's frustrating finally getting what she's always wanted, and not being able to fully enjoy it. As beautiful as it is, the cottage is also a daily reminder of all that she's lost, and the future she can never have. But they are not alone. Andrew finds strange structures along the game trails, some too close to the cottage for comfort. Something is in the woods, screeching in the darkness, banging on the house, leaving animals for dead. Things escalate when Kate's brother and sister-in-law visit. The cottage is under full scale assault as Kate lies dangerously feverish, unable to tell dream from reality. Whatever is out there boils with blood lust, its jagged screams turning their spines to ice. Thoughts of escape become horrifying forays into death and despair. Just like her body, Kate's cottage has become her prison, and she and Andrew must fight to survive the creature that lurks in the dead of night. FLAME TREE PRESS is the new fiction imprint of Flame Tree Publishing. Launching in 2018 the list brings together brilliant new authors and the more established; the award winners, and exciting, original voices.
About the Author
Hunter Shea is the author of over 20 books, with a specialization in cryptozoological horror that includes The Jersey Devil, The Dover Demon, Loch Ness Revenge and many others. . His novel, The Montauk Monster, was named one of the best reads of the summer by Publishers Weekly. A trip to the International Cryptozoology Museum will find several of his cryptid books among the fascinating displays. Living in a true haunted house inspired his Jessica Backman: Death in the Afterlife series (Forest of Shadows, Sinister Entity and Island of the Forbidden). In 2011, he was selected to be a part of the launch of Samhain Publishing's new horror line alongside legendary author Ramsey Campbell. When he's not writing thrillers and horror, he also spins tall tales for middle grade readers on Amazon's highly regarded Rapids reading app. An avid podcaster, he can be seen and heard on Monster Men, one of the longest running video horror podcasts in the world, and Final Guys, focusing on weekly movie and book reviews. His nostalgic column about the magic of 80s horror, Video Visions, is featured monthly at Cemetery Dance Online. You can find his short stories in a number of anthologies, including Chopping Block Party, The Body Horror Book and Fearful Fathoms II. A lifetime New Yorker, Hunter is supported by his loving wife and two beautiful daughters. When he's not studying up on cryptozoology, he's an avid explorer of the unknown, having spent a night alone on the Queen Mary, searching for the Warren's famous White Lady of the Union Cemetery and other mysterious places. You can follow his travails at www.huntershea.com.