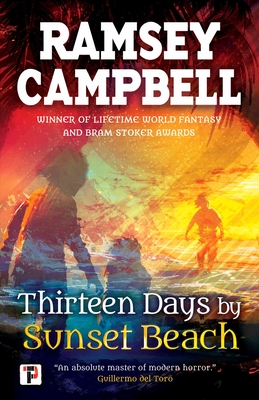 Thirteen Days by Sunset Beach (Hardcover)
Flame Tree Press, 9781787580336, 288pp.
Publication Date: September 6, 2018
* Individual store prices may vary.
Description
It's Ray's and Sandra's first family holiday in Greece, on the newly developed island of Vasilema. The family weren't to know that the skies are cloudier above the island than anywhere else in Greece, and they're mostly intrigued by the local eccentricities and customs--the lack of mirrors, the outsize beach umbrellas, the saint's day celebrated with an odd nocturnal ritual. Only why are there islanders who seem to follow the family wherever they go? Why do Sandra and the teenage grandchildren have strangely similar dreams? "I was in this huge place with no light and I didn't want to see. Something sounded... huge." And has Sandra been granted a wish she didn't even know she made? The youngest member of the family isn't taken seriously when he tells tales of the night: "I saw someone in our room. Then he went in the window, and he sank like the window was water, and then he wasn't there any more..." Their tours take them to an abandoned monastery where something that might have been human still lives, a holiday resort that is unnaturally deserted during the day, a cave where more than one gruesome discovery lies in wait. Ray buys a book from a vendor that suggests the nature of the island's secret, but soon the book is stolen, and whatever stole it turns on him: "He saw that the figure had turned to gaze at him. In a moment it shied the remains of the book into the sea and crouched towards him. He couldn't have said why he was grateful not to be able to make out its face. Its posture put him in mind of a runner at the start of a race, an idea that was all too appropriate. Before he could take a breath the figure came for him. It moved as fast as any animal, practically flying across the soft sand..." Before their holiday is over, some of the family may learn more than they can bear about the secret that keeps the island alive... FLAME TREE PRESS is the new fiction imprint of Flame Tree Publishing. Launching in 2018 the list brings together brilliant new authors and the more established; the award winners, and exciting, original voices.
About the Author
Ramsey Campbell was born in Liverpool in 1946 and still lives on Merseyside. The Oxford Companion to English Literature describes him as "Britain's most respected living horror writer." He has been given more awards than any other writer in the field, including the Grand Master Award of the World Horror Convention, the Lifetime Achievement Award of the Horror Writers Association, the Living Legend Award of the International Horror Guild and the World Fantasy Lifetime Achievement Award. In 2015 he was made an Honorary Fellow of Liverpool John Moores University for outstanding services to literature. Among his novels are The Face That Must Die, Incarnate, Midnight Sun, The Count of Eleven, Silent Children, The Darkest Part of the Woods, The Overnight, Secret Story, The Grin of the Dark, Thieving Fear, Creatures of the Pool, The Seven Days of Cain, Ghosts Know, The Kind Folk, Think Yourself Lucky and Thirteen Days by Sunset Beach. Needing Ghosts, The Last Revelation of Gla'aki, The Pretence and The Booking are novellas. His collections include Waking Nightmares, Alone with the Horrors, Ghosts and Grisly Things, Told by the Dead, Just Behind You and Holes for Faces, and his non-fiction is collected as Ramsey Campbell, Probably. Limericks of the Alarming and Phantasmal are what they sound like. His novels The Nameless and Pact of the Fathers have been filmed in Spain, where a film of The Influence is in production. He is the President of the Society of Fantastic Films. AWARDS: "The Chimney," World Fantasy Award, Best Short Story, 1978 "In The Bag," British Fantasy Award, Best Short Story, 1978 The Parasite, British Fantasy Award, Best Novel, 1980 "Mackintosh Willy," World Fantasy Award, Best Short Story, 1980 Incarnate, British Fantasy Award, Best Novel, 1985 The Hungry Moon, British Fantasy Award, Best Novel, 1988 The Influence, British Fantasy Award, Best Novel, 1989 and Premios Gigamesh, 1994 (for Spanish translation, Ultratumba) Ancient Images, Children of the Night Award for Best Novel, 1989 Midnight Sun, British Fantasy Award, Best Novel, 1991 Best New Horror (co-edited with Stephen Jones), British Fantasy Award and World Fantasy Award, Best Anthology or Collection, 1991 Alone With The Horrors, Stoker Award of the Horror Writers of America, Best Collection, 1994 and World Fantasy Award, Best Collection, 1994 The Long Lost, British Fantasy Award, Best Novel, 1994 Liverpool Daily Post & Echo Award for Literature, 1994 Premio alla Carriera a Ramsey Campbell (Prize for the Career of Ramsey Campbell), Fantafestival, Rome, 1995 The House On Nazareth Hill, Best Novel, International Horror Guild, 1998 Grand Master Award, World Horror Convention, Atlanta, Georgia, 1999 Lifetime Achievement Award of the Horror Writers Association, 1999 Ghosts And Grisly Things, British Fantasy Award, Best Collection, 1999 Ramsey Campbell, Probably, Best Non-Fiction, International Horror Guild, 2002 and Stoker Award of the Horror Writers of America, Superior Achievement in Non-Fiction, 2002 and British Fantasy Award, Best Collection, 2002 Told By The Dead, British Fantasy Award, Best Collection, 2003 Howie Award of the H. P. Lovecraft Film Festival for Lifetime Achievement, 2006 Living Legend Award of the International Horror Guild, 2007 The Grin Of The Dark, British Fantasy Award, Best Novel, 2008 Honorary Fellowship of John Moores University, Liverpool, for outstanding services to literature, 2015 Letters To Arkham, British Fantasy Award, Best Non-Fiction, 2015 Life Achievement Award, World Fantasy Awards, 2015 The Searching Dead, Children of the Night Award for Best Novel, 2016 Premio Sheridan Le Fanu for Campbell's career, 2017 (given in Madrid)