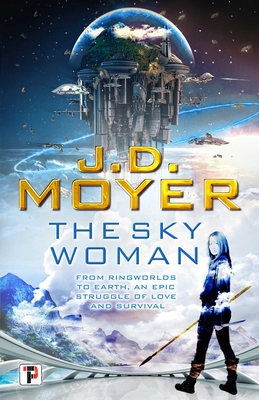 The Sky Woman (Hardcover)
Flame Tree Press, 9781787580435, 288pp.
Publication Date: September 6, 2018
* Individual store prices may vary.
Description
In the early 28th century, Earth is mostly depopulated due to natural population decline, the gradual unraveling of global civilization, and the catastrophic eruption of a Mediterranean supervolcano. Progressive scientific culture lives on among orbiting ringstations, descendants of early pioneers who rejected terrestrial life in favor of contained biomes and well-organized, collective societies. One of these ringstations is The Stanford. Car-En, an anthropologist from The Stanford on her first Earth field assignment, observes a Viking-like village in the Harz mountains of what was once Germany. Many of the villagers die in mid-life due to a mysterious disease. Car-En violates the department's official policy of Non-Interventionism to help the denizens of Happdal, defying and infuriating her over-controlling advisor Adrian Vanderplotz. Car-En witnesses Katja, a villager, kidnapped by a strange white-haired man. The villagers believe Katja has been captured by the forest gast, an evil body-thieving sprite. Katja's brothers Trond (the village smith) and Esper (a sharp-eyed hunter), track the gast along the river Nyr Begna. Trond is captured by gigantic mutant humans and nearly cooked alive. Car-En and Esper rescue Trond, and the anthropologist falls in love with the handsome hunter. Car-En attempts to help the villagers, but they are suspicious, and her efforts are further thwarted by her increasingly unhinged academic advisor. Katja is still missing, trapped in a virtual prison-paradise within the mind of the gast, a centuries-old bodysnatching parasite (where she meets one of her ancestors, and conspires to escape). Happdal is under threat of raid from neighboring village Kaldbrek, led by the bloodthirsty jarl Haakon. Meanwhile, on The Stanford, Adrian attempts to manipulate the other members of the Repopulation Council into accepting his plan for a research station which he secretly intends to develop into a permanent settlement (which would violate treaties with the other orbiting habitats). Ultimately, Car-En chooses her home, and the secret of the gast is revealed. FLAME TREE PRESS is the new fiction imprint of Flame Tree Publishing. Launching in 2018 the list brings together brilliant new authors and the more established; the award winners, and exciting, original voices.