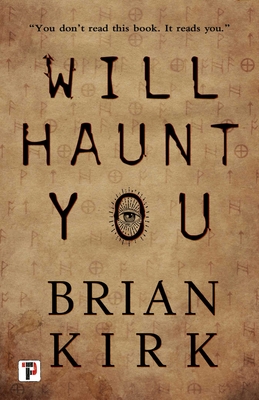 Will Haunt You
Hardcover

* Individual store prices may vary.
Other Editions of This Title:
Paperback (3/14/2019)
Description
"Kirk's suspenseful and terror-driven novel employs supernatural elements to capitalize on the dread and horror of reality... [his] handling of visceral horror and human drama make for an immersive tale." - Publisher's Weekly





You don't read the book. It reads you.

Rumors of a deadly book have been floating around the dark corners of the deep web. A disturbing tale about a mysterious figure who preys on those who read the book and subjects them to a world of personalized terror.

Jesse Wheeler—former guitarist of the heavy metal group The Rising Dead—was quick to discount the ominous folklore associated with the book. It takes more than some urban legend to frighten him. Hell, reality is scary enough. Seven years ago his greatest responsibility was the nightly guitar solo. Then one night when Jesse was blackout drunk, he accidentally injured his son, leaving him permanently disabled. Dreams of being a rock star died when he destroyed his son's future. Now he cuts radio jingles and fights to stay clean.

But Jesse is wrong. The legend is real—and tonight he will become the protagonist in an elaborate scheme specifically tailored to prey on his fears and resurrect the ghosts from his past.

Jesse is not the only one in danger, however. By reading the book, you have volunteered to participate in the author's deadly game, with every page drawing you closer to your own personalized nightmare. The real horror doesn't begin until you reach the end.

That's when the evil comes for you.





FLAME TREE PRESS is the new fiction imprint of Flame Tree Publishing. Launching in 2018 the list brings together brilliant new authors and the more established; the award winners, and exciting, original voices.
Praise For Will Haunt You…
"Suspenseful and terror-driven…[Kirk's] handling of visceral horror and human drama make for an immersive tale."
— Publishers Weekly

"Unlike anything you've ever read before."
— Lit Reactor

"A tour-de-force of psychological suspense and terror."
— Lisa Mannetti, Bram Stoker Award winner and Shirley Jackson Award finalist, author of THE BOX JUMPER

"A genuinely weird and powerful vision, Will Haunt You delivers on its titular boast, in spades."
— Gemma Files, author of Experimental Film

"One of the creepiest, and most terrifying beginnings I can remember reading in a long time."
— The Scary Reviews

"A strange and haunting bit of fiction, punch drunk with distorting the path you think you're on."
— Kendall Reviews

"A vivid mind-flaying descent into one man's living nightmare. Bizarre, chilling, and at times heartbreaking, the puzzle hidden between the lines will never leave."
— Todd Keisling, author of THE FINAL RECONCILIATION and UGLY LITTLE THINGS

"Kirk's novel is must read if unsettling and weird fiction is your thing. It certainly is mine."
— Signal Horizon

"This book has you questioning everything and everybody...Must read for those who love strange, gory tales with a writing style of an enraged demon on speed."
— The Ink Blotters

"Will Haunt You resoundingly proves that Brian Kirk is one of the foremost writers of mind-bending psychological horror today"
— A.E. Siraki

"Taking you viscerally to new levels of evocation and sensory overload...taken by the authors hand in first person narration in a nightmarish fever dream brain impregnation that may stir and haunt."
— More to Read

"I would definitely recommend to anyone who's a fan of original horror. It really is unlike anything else I've read while."
— Theresa Talks Books

"Psychological horror at its best."
— Dark Reads with Toni

"such an addictive read...Will Haunt You is expertly plotted and full of surprises."
— Ink Heist

"Will Haunt You is a surrealist exorcism, an example of psychological horror at its best. Open this book carefully. It might be the last thing you do."
— Stephanie M. Wytovich, Bram Stoker Award­winning author of Brothel

"Love would be worthless if it wasn't so hard to attain.' So goes a line in Brian Kirk's masterful Will Haunt You, a trippy piece of rock-and-roll­fueled occult meta-fiction proving that love sometimes is terrifyingly difficult to attain. If you think sobriety or any of your other defenses protect you from the horrors of this world, reading Kirk's Will Haunt You will dissuade you from that notion. In a big way. Highly recommended!"
— John F.D. Taff, Multi-Bram Stoker-Nominated Author of Little Black Spots and The Fearing

"The writing has a guitar-like rhythm-a cool, choppy riff­that hooked me in, and all but had me tapping my foot as I whirled through the pages. But rest assured, this is no breezy melody. It's a dark arrangement, a terror chorus. It will sink into your bones and shake you. With WILL HAUNT YOU, Brian Kirk stands tall in the dark fiction arena, and affirms that horror­like rock and roll-will never die."
— Rio Youers, author of THE FORGOTTEN GIRL and HALCYON.

"Will Haunt You by Brian Kirk is a character-driven tale of cosmic horror that reminds readers that there are dark, dangerous, possible futures lurking on the horizon, unexplainable, inescapable, beyond human comprehension."
— Rougeski Reads

"Kirk has crafted something special here in that I was hooked from the first page onward."
— Horror DNA
Flame Tree Press, 9781787581388, 240pp.
Publication Date: March 14, 2019
About the Author
Brian Kirk is an author of dark thrillers and psychological suspense. His debut novel, We Are Monsters, was nominated for a Bram Stoker Award® for Superior Achievement in a First Novel. And his short fiction has been published in many notable magazines and anthologies alongside multiple New York Times bestselling authors.
or
Not Currently Available for Direct Purchase