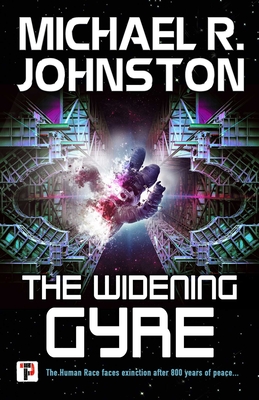 The Widening Gyre
Hardcover

* Individual store prices may vary.
Other Editions of This Title:
Paperback (3/14/2019)
Description
"The Widening Gyre is the best Space Opera I've read in years." -- Cemetery Dance Online The Remembrance War Book 1 Eight hundred years ago, the Zhen Empire discovered a broken human colony ship drifting in the fringes of their space. The Zhen gave the humans a place to live and folded them into their Empire as a client state. But it hasn't been easy. Not all Zhen were eager to welcome another species into their Empire, and humans have faced persecution. For hundreds of years, human languages and history were outlawed subjects, as the Zhen tried to mold humans into their image. Earth and the cultures it nourished for millennia are forgotten, little more than legends. One of the first humans to be allowed to serve in the Zhen military, Tajen Hunt became a war hero at the Battle of Elkari, the only human to be named an official Hero of the Empire. He was given command of a task force, and sent to do the Empire's bidding in their war with the enigmatic Tabrans. But when he failed in a crucial mission, causing the deaths of millions of people, he resigned in disgrace and faded into life on the fringes as a lone independent pilot. When Tajen discovers his brother, Daav, has been killed by agents of the Empire, he, his niece, and their newly-hired crew set out to finish his brother's quest: to find Earth, the legendary homeworld of humanity. What they discover will shatter 800 years of peace in the Empire, and start a war that could be the end of the human race. FLAME TREE PRESS is the imprint of long-standing Independent Flame Tree Publishing, dedicated to full-length original fiction in the horror and suspense, science fiction & fantasy, and crime / mystery / thriller categories. The list brings together fantastic new authors and the more established; the award winners, and exciting, original voices. Learn more about Flame Tree Press at www.flametreepress.com and connect on social media @FlameTreePress.
Flame Tree Press, 9781787581456, 256pp.
Publication Date: March 14, 2019
About the Author
Born in the San Francisco bay area and raised in Napa, California, Michael R. Johnston grew up steeped in everything Science Fiction and Fantasy from Asimov to Zelazny, as well as endless terrible SF TV shows he still has a slightly embarrassed fondness for. Faced with the choice between moving back in with his parents and continuing school, or paying his rent, he took "a year" off from college. He spent time as a court process server, a retail sales associate, a sandwich maker, and a data entry tech, before finding himself in a management role. A decade later, burnt out from his job in political research and facing 30, he decided he'd had enough and returned to college, graduating with honors from California State University, Sacramento. In fall 2006, he became a high school English teacher, a job he likens to herding a swarm of angry bees. It's the best job he's ever had. In 2013, he attended the 17th Viable Paradise Science Fiction Writing Workshop. The experience of having his story critiqued by other writers, some of them professionals he'd been reading for years, helped him realize he could write professionally, and introduced him to some of his best friends. He currently lives in Sacramento, California, with his wife and daughter, surrounded by a circle of incredibly geeky and amazing people. When he's not writing or teaching, he spends time with his family, plays video games and tabletop RPGs, and reads. He blogs at MJohnstonBooks.com, and can be found on Twitter @MREJohnston.
or
Not Currently Available for Direct Purchase