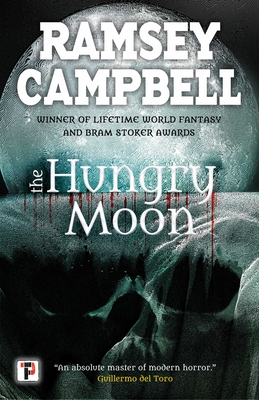 The Hungry Moon (Hardcover)
Flame Tree Press, 9781787582019, 368pp.
Publication Date: April 11, 2019
Other Editions of This Title:
Paperback (4/11/2019)
Paperback (1/3/2012)
* Individual store prices may vary.
Description
Isolated on the moors of northern England, the town of Moonwell has remained faithful to their Druid traditions and kept their old rituals alive. Like many Peak District villages, it celebrates an annual dressing of the well that provided a spring to the town in the years of the plague - but in Moonwell's case, the ritual may keep an occult power at bay. To Moonwell comes the preacher Godwin Mann, whose particularly intolerant brand of fundamentalism appeals to the inhabitants. They rally almost as one behind him and ostracize and persecute the few independent souls who do not. Mann descends into the pit in which the ancient malignant being worshipped by the Druids millennia past is said to dwell. A local folk song prophesies what may happen: "Old moon's a-laughing and showing his teeth. Harry Moony he's coming from his grave beneath... The priest's in the well and the night's in the sun. And nobody leaves till Harry Moony is done..." Intending to exorcise the demon and claim the land for God, Mann is instead overwhelmed. What emerges from the pit is the monstrous creature, clothed now in the flesh of Mann, and it is only the town's pariahs who can see that something is radically wrong, that an evil has been unleashed on the community. Slowly Moonwell is isolated from the world, as telephone lines break down, a cloud cover brings continuous darkness, watches and clocks stop, roads mysteriously lead nowhere. And within this isolation, the monster's power grows unimpeded. Only Diana Kramer, an American teaching at the local school, and Nick Reid, a journalist who has come to believe all is not well in the town, do their best to alert the people... FLAME TREE PRESS is the new fiction imprint of Flame Tree Publishing. Launched in 2018 the list brings together brilliant new authors and the more established; the award winners, and exciting, original voices.
About the Author
Ramsey Campbell was born in Liverpool in 1946 and still lives on Merseyside. The Oxford Companion to English Literature describes him as "Britain's most respected living horror writer". He has been given more awards than any other writer in the field, including the Grand Master Award of the World Horror Convention, the Lifetime Achievement Award of the Horror Writers Association, the Living Legend Award of the International Horror Guild and the World Fantasy Lifetime Achievement Award. In 2015 he was made an Honorary Fellow of Liverpool John Moores University for outstanding services to literature. His novels The Nameless and Pact of the Fathers have been filmed in Spain, where a film of The Influence is in production. He is the President of the Society of Fantastic Films. AWARDS: The Hungry Moon, British Fantasy Award, Best Novel, 1988 Grand Master Award, World Horror Convention, Atlanta, Georgia, 1999 Lifetime Achievement Award of the Horror Writers Association, 1999 Living Legend Award of the International Horror Guild, 2007 A Life Achievement Award, World Fantasy Awards, 2015
or
Not Currently Available for Direct Purchase