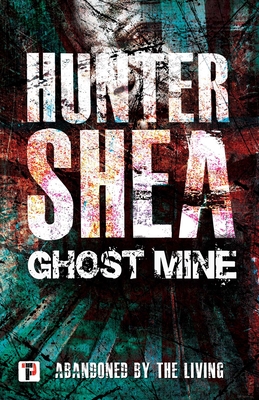 Ghost Mine (Hardcover)
Flame Tree Press, 9781787582088, 304pp.
Publication Date: May 30, 2019
Other Editions of This Title:
Paperback (5/30/2019)
* Individual store prices may vary.
Description
1st time with full trade distribution in all formats. Previously titled Hell Hole. Deep in a Wyoming mine, hell awaits. Former cattle driver, Rough Rider and current New York City cop Nat Blackburn is given an offer he can't refuse by President Teddy Roosevelt. Tales of gold in the abandoned mining town of Hecla, in the Deep Rock Hills, abound. The only problem-those who go seeking their fortune never return. Roosevelt's own troops are among the missing, and the President wants to know their fate - and find the gold. Along with his constant companion, Teta, a hired gun with a thirst for adventure, Nat travels to a barren land where even animals dare not tread. Along the way, they are joined by a Selma, a fiery and beautiful woman in search of her brother who was swallowed up by Hecla years earlier. Hecla is an eerie ghost town, its cemetery filled with crooked tombstones, the dusty streets scored by tumbleweed, the windows of the abandoned houses like eyes, following their every move. Terrifying wraiths flit throughout the town at night. Settling into a vacant home, Nat, Teta and Selma are approached by strange, black eyed children who then disappear like twin vapors. A trip to the mine ends with them galloping for their lives, chased by immense, hairy wild men. No, Hecla is far from abandoned - it's teeming with the supernatural, strange beasts and phantoms both luring them deeper into the mystery and driving them away from the mine. Only when a strange preacher and his hulking mute assistant arrive (on a Godly mission after hearing the blaring horns of Revelation) do they realize they cannot leave the town's borders, an invisible wall refusing to let them go. There's only one thing to do - plumb the chilling depths of the ghost mine and find the source of Hecla's bizarre power. What they stumble upon is a hellish battle of underworld forces while being tortured by the ghosts of their checkered pasts. There's a mystery in Hecla thousands of years old. Solving it could spell the end of the world. FLAME TREE PRESS is the new fiction imprint of Flame Tree Publishing. Launching in 2018 the list brings together brilliant new authors and the more established; the award winners, and exciting, original voices.
About the Author
Hunter Shea is the author of over 20 books, with a specialization in cryptozoological horror that includes The Jersey Devil, The Dover Demon, Loch Ness Revenge and many others. His novel The Montauk Monster, was named one of the best reads of the summer by Publishers Weekly. A trip to the International Cryptozoology Museum will find several of his cryptid books among the fascinating displays. Living in a true haunted house inspired his Jessica Backman: Death in the Afterlife series (Forest of Shadows, Sinister Entity and Island of the Forbidden). He was selected to be part of the launch of Samhain Publishing's new horror line in 2011 alongside legendary author Ramsey Campbell. When he's not writing thrillers and horror, he also spins tall tales for middle grade readers on Amazon's highly regarded Rapids reading app. An avid podcaster, he can be seen and heard on Monster Men, one of the longest running video horror podcasts in the world, and Final Guys, focusing on weekly movie and book reviews. His nostalgic column about the magic of 80s horror, Video Visions, is featured monthly at Cemetery Dance Online. You can find his short stories in a number of anthologies, including Chopping Block Party, The Body Horror Book and Fearful Fathoms II. Living with his crazy and supportive family and two cats, he's happy to be close enough to New York City to see the skyline without having to pay New York rent. You can follow his travails at www.huntershea.com.