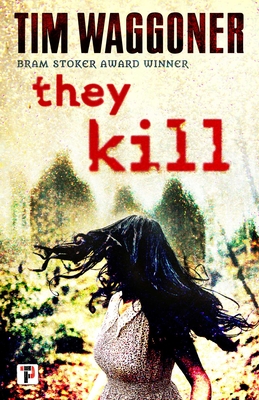 They Kill (Hardcover)
Flame Tree Press, 9781787582576, 240pp.
Publication Date: July 25, 2019
Other Editions of This Title:
Paperback (7/25/2019)
* Individual store prices may vary.
Description
What are you willing to do, what are you willing to become, to save someone you love? On the one-year anniversary of his death in a terrible car accident, Sierra Sowell's brother Jeffrey is resurrected by a mysterious man known only as Corliss. Corliss also transforms several people in Sierra's life into inhuman monsters: her alcoholic neighbor Grace, her possessive ex-boyfriend Stuart, a creepy older man named Randall, and a sexually repressed colleague named Mandy. Each of these people harbor grudges against Sierra, sparks of anger and resentment which Corliss fans into murderous flames. Grace become a booze-fueled witch, Stuart a deadly cyborg, Randall a smiley faced serial killer, and Mandy an insatiable succubus. To matter worse, Jeffrey is only partially alive. He's a walking corpse possessing a devastating deathtouch. Sierra and Jeffrey's boyfriend Marc work to discover the reason for her brother's return to life while struggling to survive attacks by the monstrous quartet whose only desire it to see her dead. The monsters aren't willing to share Sierra, however, and they battle to determine which will be the one to kill her, leaving a pile of corpses in their wake. After the monsters carve a bloody swath through town - and each other - Corliss gives Sierra a chance to make Jeffrey's resurrection permanent: if she's willing to make a dreadful bargain. Can she do what it will take to save her brother, no matter how much blood is shed along the way? Or will she allow him to return to the land of the dead and perhaps join him there? FLAME TREE PRESS is the new fiction imprint of Flame Tree Publishing. Launched in 2018 the list brings together brilliant new authors and the more established; the award winners, and exciting, original voices.
About the Author
Tim Waggoner's first novel came out in 2001, and since then he's published close to forty novels and three collections of short stories. He writes original dark fantasy and horror, as well as media tie-ins. His novels include Like Death, considered a modern classic in the genre, and the popular Nekropolis series of urban fantasy novels. He's written tie-in fiction for Supernatural, Grimm, The X-Files, Doctor Who, A Nightmare on Elm Street, and Transformers, among others, and he's written novelizations for films such as Kingsman: the Golden Circle and Resident Evil: the Final Chapter. His articles on writing have appeared in Writer's Digest, Writer's Journal, Writer's Workshop of Horror, and Where Nightmares Come From. In 2017 he received the Bram Stoker Award for Superior Achievement in Long Fiction, and he's been a finalist for the Shirley Jackson Award and the Scribe Award. His fiction has received numerous Honorable Mentions in volumes of Best Horror of the Year, and in 2016, the Horror Writers Association honored him with the Mentor of the Year Award. In addition to writing, he's also a full-time tenured professor who teaches creative writing and composition at Sinclair College.