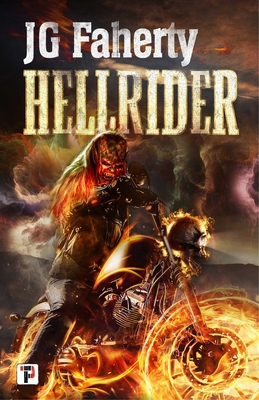 Hellrider (Hardcover)
Flame Tree Press, 9781787582644, 304pp.
Publication Date: August 22, 2019
Other Editions of This Title:
Paperback (8/22/2019)
* Individual store prices may vary.
Description
After being burned alive by a gang, the Hell Riders, he used to belong to, Eddie Ryder returns as a heavy-metal spouting ghost with a temper that's worse now than when he was alive. At first he is nothing more than a floating presence, depressed he has to spend eternity watching his teenage brother, Carson, and ailing mother struggle without him. Then he develops powers. And he can control electricity. He can conjure the ghostly doppelganger of his motorcycle, Diablo, and fly across the sky, but he can't escape the boundaries of his hometown, Hell Creek. Eddie decides to exact his revenge on the bikers who killed him. Before he can do more than scare some of the bikers, however, he discovers something even better: he can posses people. He uses this ability to get the gang members to attack each other, and to deliver a message to the current leader, Hank Bowman: Eddie's Coming. Spouting fire and lightning from his fingers and screaming heavy metal lyrics as he rides the sky above the town of Hell Creek, he brings destruction down on all those who wronged him, his power growing with every death. Only Eddie's younger brother, Carson, and the police chief's daughter, Ellie, understand what's really happening, and now they have to stop him before he destroys the whole town. FLAME TREE PRESS is the new fiction imprint of Flame Tree Publishing. Launched in 2018 the list brings together brilliant new authors and the more established; the award winners, and exciting, original voices.
About the Author
A life-long resident of New York's haunted Hudson Valley, JG Faherty is the author of 6 novels, 9 novellas, and more than 60 short stories, and he's been a finalist for both the Bram Stoker Award (The Cure, Ghosts of Coronado Bay) and ITW Thriller Award (The Burning Time). He writes adult and YA horror, science fiction, dark fantasy, and paranormal romance, and his works range from quiet, dark suspense to over-the-top comic gruesomeness. As a child, his favorite playground was a 17th-century cemetery, which many people feel explains a lot.You can follow him at www.twitter.com/jgfaherty, www.facebook.com/jgfaherty, www.jgfaherty.com, and http: //jgfaherty-blog.blogspot.com/ AWARDS: Finalist, Bram Stoker Award - Superior Achievement in a Novel (2015) Finalist, Thriller Award, International Thriller Writers (2014) Finalist, Bram Stoker Award; - Superior Achievement in a Young Adult Novel (2011) Winner, Tales from the Moonlit Path Halloween Contest (2006) Winner, Hot Summer Something Contest, fromtheasylum.com (2006)