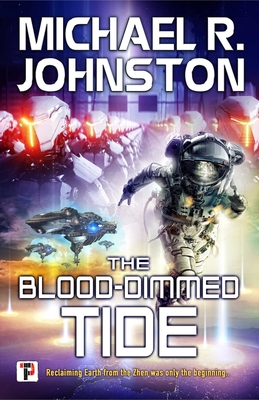 The Blood-Dimmed Tide (The Remembrance War)
Paperback

* Individual store prices may vary.
Other Editions of This Title:
Hardcover (2/20/2020)
Description
The sequel to The Widening Gyre, praised by Locus, ScienceFiction.com, Booklist, Library Journal and more!

Reclaiming Earth from the Zhen was only the first battle. Now Tajen Hunt and his fellow colonists must fight for their fledgling colony's survival. Tajen's mission to seek aid from the Kelvaki Assembly is cut short when the Zhen invade Earth. Now he, Liam, and Kiri must return to Earth and liberate the colony from brutal occupation. When Tajen learns the Zhen plan to destroy a human fleet amassing in preparation to help Earth, he and his crew must escape the planet once more and warn them.

FLAME TREE PRESS is the imprint of long-standing Independent Flame Tree Publishing, dedicated to full-length original fiction in the horror and suspense, science fiction & fantasy, and crime / mystery / thriller categories. The list brings together fantastic new authors and the more established; the award winners, and exciting, original voices. Learn more about Flame Tree Press at www.flametreepress.com and connect on social media @FlameTreePress
Praise For The Blood-Dimmed Tide (The Remembrance War)…
"Tajen Hunt [and] the rest of the crew from the first book of The Remembrance War series are back and determined to protect and maintain control of their ancestral home, Earth, [in] a narrative that will resonate with readers."
— Booklist

"Fine thrillers with many resonances for today's world, both The Blood-Dimmed Tide and its precursor are rewarding reads."
— Analog SF

"The energetic second space opera in Johnston's Remembrance War series (after the Widening Gyre) offers big, bombastic set pieces [...] Curious differences between the various alien races, futuristic tech that's flashy without being overbearing, and the complexities of interstellar politics all entertain while rounding out the worldbuilding as Johnston pushes his characters toward an inevitable interspecies war."
— Publishers Weekly

"A good story, lots of action, likable and believable characters, excellent dialog, and just a lot of fun."
— scintilla.info

"If you are a fan of Mass Effect, Firefly or Becky Chambers, this should be next on your radar."
— Hedwig's World

"This is a full on, action packed space opera, with a great range of characters and fantastic world building. Roll on Book 3…."
— The Bookwormery

Praise for The Widening Gyre (Book #1 in the Remembrance War series)

"The Widening Gyre is the best Space Opera I've read in years." -- Cemetery Dance Online

"Johnston's debut will keep readers on the edge of their seats as the heroes get themselves into one scrape after another. It has a hint of Battlestar Galactica, but with giant reptilian aliens. Johnston, with skillful plotting and impeccable world building, takes the tale of Tajen and his crew searching for home and shapes it into an unforgettable journey." - ALA Booklist

"Readers will feel invested in Tajen's team of affable human rebels and their futures" -- Publishers Weekly

"Fans of David Weber or Elizabeth Moon will enjoy this debut, and experienced sf readers will catch some winks at other series." -- Library Journal

"Johnston proves that he has a deft hand at world building and is giving us a new take on Earth's future [...] A thrilling ride full of mystery and mayhem." -- ScienceFiction.com

"What makes the book work is the characters. They all have interesting flaws, strengths, short-sightedness, and wisdom: they're well rounded enough that I really came away liking them, even some of the villains." -- Locus Magazine

"Johnston has taken the best elements from the old masters of space opera and created a fresh and fun story." -- scintilla.info
Flame Tree Press, 9781787583115, 240pp.
Publication Date: February 20, 2020
About the Author
Michael R. Johnston is a high school English teacher and writer. He lives in Sacramento, California with his wife Elli, daughter Tegan, and more cats than is strictly necessary. His first novel, The Widening Gyre, was published in 2019 by Flame Tree Press. Even so, his daughter doesn't think he's cool anymore.
or
Not Currently Available for Direct Purchase