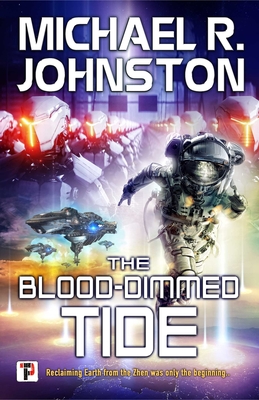 The Blood-Dimmed Tide
Hardcover

* Individual store prices may vary.
Other Editions of This Title:
Paperback (2/20/2020)
Description
The sequel to The Widening Gyre, praised by Locus, ScienceFiction.com, Booklist, Library Journal and more Reclaiming Earth from the Zhen was only the first battle. Now Tajen Hunt and his fellow colonists must fight for their fledgling colony's survival. Tajen's mission to seek aid from the Kelvaki Assembly is cut short when the Zhen invade Earth. Now he, Liam, and Kiri must return to Earth and liberate the colony from brutal occupation. When Tajen learns the Zhen plan to destroy a human fleet amassing in preparation to help Earth, he and his crew must escape the planet once more and warn them. FLAME TREE PRESS is the imprint of long-standing Independent Flame Tree Publishing, dedicated to full-length original fiction in the horror and suspense, science fiction & fantasy, and crime / mystery / thriller categories. The list brings together fantastic new authors and the more established; the award winners, and exciting, original voices. Learn more about Flame Tree Press at www.flametreepress.com and connect on social media @FlameTreePress.
Flame Tree Press, 9781787583139, 240pp.
Publication Date: February 20, 2020
About the Author
Born in the San Francisco Bay Area and raised in Napa, California, Michael R. Johnston grew up steeped in everything Science Fiction and Fantasy. In the early 90s, he took a "break" from college that went from being one semester to ten years. In that time, he had several jobs, from serving subpoenas to making sandwiches, before he became the Data Processing Manager of a small research company. Eventually he decided he'd had enough of the corporate world and returned to college, graduating with honors from California State University, Sacramento. In fall 2006, he became a high school English teacher, a job he likens to herding a swarm of angry bees. It's the best job he's ever had. Michael currently lives in Sacramento, California, with his wife and daughter. When he's not writing or teaching, he spends time with his family, plays video games and tabletop RPGs, and reads. He blogs at MJohnstonBooks.com, and can be found on Twitter as @MREJohnston.