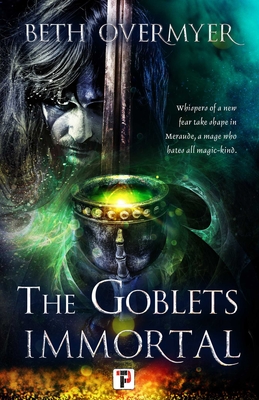 The Goblets Immortal
Paperback

* Individual store prices may vary.
Other Editions of This Title:
Hardcover (2/20/2020)
Description
"A promising series opener with a rich supporting cast of characters. Packed full of adventure and ending with a cliffhanger that leaves readers anxiously awaiting a sequel." -- ALA Booklist Holes in the Veil (Book #2) will be released February 16, 2021 In a land where magic's feared, a rare magical kind exists: the Blest, products of the Goblets Immortal. Aidan's a Blest on the run, forced to return home. He made his family vanish decades ago, but believes there's a way to bring them back. Whispers of a new fear take shape in Meraude, a mage who hates all magic-kind. When she appears in Aidan's dreams offering a bargain for the return of his family, Aidan's desires battle with his self-preservation. Is it wise for Aidan to seek the Goblets Immortal for Meraude's unknown purposes? Friend and foe blur the magical lines, and Aidan must discern who will shake his hand or slit his throat. FLAME TREE PRESS is the imprint of long-standing Independent Flame Tree Publishing, dedicated to full-length original fiction in the horror and suspense, science fiction & fantasy, and crime / mystery / thriller categories. The list brings together fantastic new authors and the more established; the award winners, and exciting, original voices. Learn more about Flame Tree Press at www.flametreepress.com and connect on social media @FlameTreePress.
Flame Tree Press, 9781787583603, 256pp.
Publication Date: February 20, 2020
About the Author
Beth Overmyer has authored several books--In a Pickle, a middle grade novella, and Circus in a Shot Glass, a women's fiction novel, being among them. She's in love with the fantasy genre, mysteries--especially when there's tea and/or a quirky sleuth involved--, and wouldn't say no to reading and writing in every genre but hardcore horror and erotica. Influencers to her writing include J.R.R. Tolkien and Brandon Sanderson, though Douglas Adams may be lurking in there somewhere. Love of writing and reading has led to her leading a creative writing group at her local public library, where she once was a pupil. But she doesn't see herself as a teacher: she's more of a facilitator and encourager when needed. Every other week during the school year, they meet and perform various writing exercises, which each individual's encouraged to then share. When she's not writing, reading, editing, drinking tea, or facilitating creative writing meetings, Beth enjoys hanging out with her writing pals for fellowship, brainstorming, and great company. You can visit Beth's website at http: //bethovermyer.com.
or
Not Currently Available for Direct Purchase