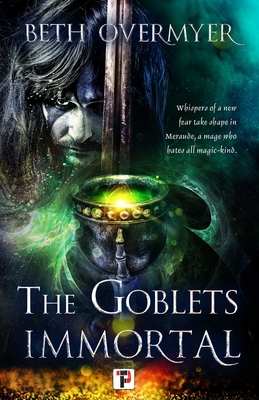 The Goblets Immortal (Hardcover)
Flame Tree Press, 9781787583627, 288pp.
Publication Date: February 20, 2020
Other Editions of This Title:
Paperback (2/20/2020)
* Individual store prices may vary.
Description
In a land where elves and goblins live on the fringes of society, there exists a rare magical kind: the Blest, the offspring of a cult and the product of the Goblets Immortal. Aidan Ingledark possesses the magical gift of Summoning: he can make non-living objects appear and disappear at will, as well as Call them into his waiting hands or Repel them and thus force them away from himself. He has had the gift since he was ten, and that was when everything went wrong. Aidan believes he Dismissed his family and has since been unable to find them in Nothingness, a great pocket universe that lies between Existence and Death. Now wanted for murders he did not commit, the Summoner is on the run from Lord Dewhurst, a usurper to his title and Aidan's accuser. Dewhurst wants Aidan for unknown purposes...but then, so does the mage Meraude. Meraude is reputed to hate all magical beings, but has sought to enlist Aidan's help in finding and retrieving the Goblets Immortal. If he does her bidding, the mage has promised his family's safe return. If he refuses, she has promised to seek him out and murder him. Her desire for the Goblets is an enigma, other than the promise of immortality that comes from drinking from all of the vessels. To complicate matters, the unwanted responsibility of an ornery slave girl has been thrust upon Aidan's shoulders. Sla ne hates Meraude with a fiery passion and wishes to be the one who ends the mage's life. Her relationship with her new master is tenuous at best, and she claims to have had a curse laid upon her head that would prevent her from ever being free...but for one clause that she remains unwilling to disclose. Is it wise for Aidan to seek the Goblets Immortal for Meraude's unknown purposes? Friend and foe blur the magical lines, and Aidan must discern who will shake his hand or slit his throat before they have a chance to act. Magic kind might be depending on it.
About the Author
Beth Overmyer has authored several books--In a Pickle, a middle grade novella, and Circus in a Shot Glass, a women's fiction novel, being among them. She's in love with the fantasy genre, mysteries--especially when there's tea and/or a quirky sleuth involved--, and wouldn't say no to reading and writing in every genre but hardcore horror and erotica. Influencers to her writing include J.R.R. Tolkien and Brandon Sanderson, though Douglas Adams may be lurking in there somewhere. Love of writing and reading has led to her leading a creative writing group at her local public library, where she once was a pupil. But she doesn't see herself as a teacher: she's more of a facilitator and encourager when needed. Every other week during the school year, they meet and perform various writing exercises, which each individual's encouraged to then share. When she's not writing, reading, editing, drinking tea, or facilitating creative writing meetings, Beth enjoys hanging out with her writing pals for fellowship, brainstorming, and great company. You can visit Beth's website at http: //bethovermyer.com.