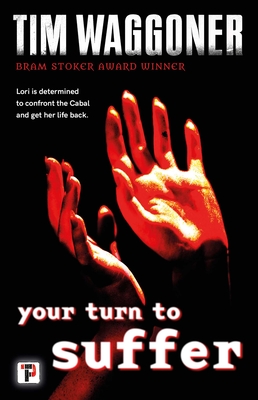 Your Turn to Suffer (Fiction Without Frontiers) (Paperback)
Flame Tree Press, 9781787585164, 256pp.
Publication Date: March 23, 2021
Other Editions of This Title:
Hardcover (3/23/2021)
* Individual store prices may vary.
Description
"His ability to weave the surreal with the hyper-real is his greatest talent." — Signal Horizon.

Lorelei Palumbo is harassed by a sinister group calling themselves The Cabal. They accuse her of having committed unspeakable crimes in the past, and now she must pay. The Cabal begins taking her life apart one piece at a time – her job, her health, the people she loves – and she must try to figure out what The Cabal thinks she's done if she's to have any hope of answering their charges and salvaging her life.

FLAME TREE PRESS is the new fiction imprint of Flame Tree Publishing. Launched in 2018 the list brings together brilliant new authors and the more established; the award winners, and exciting, original voices.
About the Author
Bram Stoker Award-winning author Tim Waggoner writes both original and media tie-in fiction, and he has published over forty novels and four short story collections. He teaches creative writing at Sinclair College in Dayton, Ohio.
Praise For Your Turn to Suffer (Fiction Without Frontiers)…
"With new twists on vampirism and the haunted house, horror fans will find this Lovecraftian terror tale of interest."

"Fast-paced, hair-raising, and with a twist ending with enough spin to make you rethink who the real monsters are, The Forever House is the sort of phantasmagorical terror that keeps you reading through gore, grit, and grime until the very end."

"His ability to weave the surreal with the hyper-real is his greatest talent."

"THE FOREVER HOUSE is a dark, imaginative horror read from Tim Waggoner."

"Tim Waggoner . . . has a knack for taking conventional horror tropes and giving them a deliciously bizarre spin."

"Bram Stoker Award-winner Tim Waggoner consistently delivers the goods when it comes to hard-hitting horror fiction, with compelling characters and dangerous horrors at every turn."

"Tim Waggoner manages to meld surreal imagery and events with strong character work and an immersive point of view, resulting in work that shocks you on the surface and unsettles you right down to your bones."

"Refreshingly different from most of what's being published in the horror genre these days."

"Waggoner is in possession of a talent that should be taken seriously, and I can't wait for his next book."

"He supplies everything that a horror fan could want, and he delivers with style."

"The Forever House gives the horror fan a good dose of creepy, horrific and bloody action."

"THE FOREVER HOUSE has to be one of the craziest books I've ever read and I mean that in the best way possible!"