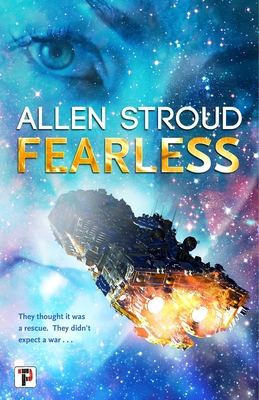 Fearless (The Fractal Series)
Hardcover

* Individual store prices may vary.
Other Editions of This Title:
Paperback (9/8/2020)
Description
"Fast-paced, gripping hard SF with death in hard vacuum waiting at every turn." — Arthur C. Clarke Award winner Adrian Tchaikovsky

AD 2118. Humanity has colonised the Moon, Mars, Ceres and Europa. Captain Ellisa Shann commands Khidr, a search and rescue ship with a crew of twenty-five, tasked to assist the vast commercial freighters that supply the different solar system colonies.

Shann has no legs and has taken to life in zero-g partly as a result. She is a talented tactician who has a tendency to take too much on her own shoulders. Now, while on a regular six-month patrol through the solar system, Khidr picks up a distress call from the freighter Hercules…

FLAME TREE PRESS is the new fiction imprint of Flame Tree Publishing. Launched in 2018 the list brings together brilliant new authors and the more established; the award winners, and exciting, original voices.
Praise For Fearless (The Fractal Series)…
"Fast-paced, gripping hard SF with death in hard vacuum waiting at every turn."

"Gripping, intense, military SF. Stunning and urgent."
— Anna Smith Spark, author of the Empires of Dust series

"Space battles, sabotage, and treachery envelop a gripping whodunit, as Captain Ellisa Shann strives to identify a murderer among her crew and save her ship, the Khidr, from imminent destruction. Fearless is a fabulous read from a writer who knows how to deliver."
— Ian Whates, Author of Dark Angels Rising and 2019 Winner of the Karl Edward Wagner Award

"Fearless is a brilliant achievement, and one of the best science-fiction novels I have read in a very long time."

"The depths of outer space test the strength of a dynamic heroine's inner resolve in Stroud's smart, introspective space opera set in the year 2118. [...] With an attention to detail that will please hard science fiction fans, Stroud raises fascinating questions about the politics of space exploration. This is one to be savored."

Rigorous hard SF with a powerful but flawed protagonist and a fascinating historical background, 'Fearless' is a treat for just about any Analog reader."
— Analog Science Fiction & Fact

"A wonderful, modern, inclusive and clever science fiction that deserves to be a part of anyone's collection."
— SF Book

"[Allen Stroud] also brings a Clarkian feel that grounds the story in the best tradition of science fiction. He keeps the action going, and does a fine job of showing the difficulties of conflict in space. Highly Recommended."

"Allen Stroud tells a hard sf tale with white knuckle stress that doesn't let up till the end. I want more."
— Henry Lazarus

"With a large cast of characters, lots of suspects, space battles and plenty of action to keep even the most ardent fans of sci-fi thoroughly entertained. Brilliant."
— The Bookwormery

"Allen Stroud's Fearless has elements of those classics of an earlier era. He takes science seriously. The plot is gritty and full of twists."
— Scintilla

"Fearless offers the reader a great piece of smart science fiction that fans of space opera and spaceship battles will enjoy immensely. Expect lots of tension and a group of characters you soon get invested in."
— Runalong the shelves
Flame Tree Press, 9781787585423, 368pp.
Publication Date: September 8, 2020
About the Author
Chair of the British Science Fiction Association, Editor of the British Fantasy Society Journal Allen Stroud was Chair of Fantasycon 2017 and 2018. He has a PhD and a Masters in Science Fiction and Fantasy world-building. Stroud has written video game novelisations such as Elite: Dangerous and Phoenix Point) and his short stories have appeared in 2001: An Odyssey in Words and 2017 Year's Best Military & Adventure SF.
or
Not Currently Available for Direct Purchase