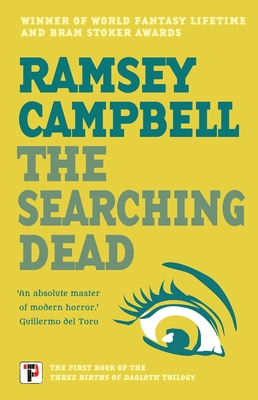 The Searching Dead (The Three Births of Daoloth)
Hardcover

* Individual store prices may vary.
Other Editions of This Title:
Paperback (2/16/2021)
Description
"An absolute master of modern horror. And a damn fine writer at that" - Guillermo del Toro

Book 1 in the Three Births of Daoloth trilogy.

1952. On a school trip to France teenager Dominic Sheldrake begins to suspect his teacher Christian Noble has reasons to be there as secret as they're strange. Meanwhile a widowed neighbour joins a church that puts you in touch with your dead relatives, who prove much harder to get rid of. As Dominic and his friends Roberta and Jim investigate, they can't suspect how much larger and more terrible the link between these mysteries will become. A monstrous discovery beneath a church only hints at terrors that are poised to engulf the world as the trilogy brings us to the present day…

FLAME TREE PRESS is the new fiction imprint of Flame Tree Publishing. Launched in 2018 the list brings together brilliant new authors and the more established; the award winners, and exciting, original voices.
Praise For The Searching Dead (The Three Births of Daoloth)…
"This is Campbell at the height of his powers, proving once again that he is a master of the genre."
— Publishers Weekly Starred Review

"A return to and a revisioning of some of his earliest imaginings, the trilogy is a kind of autobiography of its protagonist, in which his lifelong struggle with a supernatural agency occurs against the backdrop of post-war British history. The result is a magisterial work, though such a description scants the novels' propulsive readability. It's another remarkable achievement in a career full of them."
— Locus Magazine

"The first book in his upcoming "The Three Births of Daoloth" trilogy, The Searching Dead is Ramsey Campbell at the peak of his craft, the literary equivalent of a well-aged bottle of Balvenie."
— HorrorDNA

"This novel is not only the start of an awesome horror epic by a master, but also a compelling coming-of-age story about a budding writer finding his way in a terrifying world."
— Library Journal

"I highly recommend this trilogy for new Ramsey Campbell fans like myself. This seems like the best possible introduction to his body of work."
— Cemetery Dance

"The Searching Dead is the first book of the Three Births of Daoloth trilogy. It's a spooky read that winds its way through spiritual paths leading right up to the cemetery gates. When you hear the dead call out from the graveyards...will you answer?"
— Horror Bookworm Reviews

"Britain's most respected living horror writer"
— Oxford Companion to English Literature

"One of the century's great literary exponents of the gothic and horrific"
— The Guardian

"Easily the best horror writer working in Britain today."
— Time Out

"Good horror writers are quite rare, and Campbell is better than just good"
— Stephen King

"The John Le Carre of horror fiction"
— Bookshelf, Radio 4

"Britain's greatest living horror writer"

"Britain's leading horror novelist."
— New Statesman

"An absolute master of modern horror. And a damn fine writer at that"
— Guillermo del Toro

"The most sophisticated and highly regarded of British horror writers"
— Financial Times

"He writes of our deepest fears in a precise, clear prose that somehow manages to be beautiful and terrifying at the same time. He is a powerful, original writer, and you owe it to yourself to make his acquaintance"
— Washington Post

"One of the few who can scare and disturb as well as make me laugh out loud. His humour is very black but very funny, and that's a rare gift to have"
— Mark Morris, The Observer

"For sheer ability to compose disturbing, evocative prose, he is unmatched in the horror/fantasy field... He turns the traditional horror novel inside out, and makes it work brilliantly"
— Fangoria

"A horror writer in the classic mould... Britain's premier contemporary exponent of the art of scaring you out of your skin"
— Q Magazine

"The Grand Master of British horror... the greatest living writer of horror fiction"
— Vector

"Ramsey Campbell's work is tremendous"
— Jonathan Ross

"In Campbell's hands words take on a life of their own, creating images that stay with you, feelings that prey on you, and people you hope never ever to meet"
— Starburst

"The finest writer now working in the horror field"
— Interzone

"Ramsey Campbell is the nearest thing we have to an heir to M. R. James"
— Times
Flame Tree Press, 9781787585584, 256pp.
Publication Date: February 16, 2021
About the Author
The Oxford Companion to English Literature describes Ramsey Campbell as "Britain's most respected living horror writer". He has been given more awards than any other writer in the field, including the Grand Master Award of the World Horror Convention, the Lifetime Achievement Award of the Horror Writers Association, the Living Legend Award of the International Horror Guild and the World Fantasy Lifetime Achievement Award.