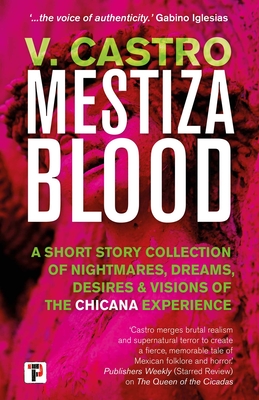 Mestiza Blood
Paperback

* Individual store prices may vary.
Other Editions of This Title:
Hardcover (1/25/2022)
Description
A short story collection of nightmares, dreams, desire and visions centered around the Chicana experience. The stunning, star-reviewed V. Castro weaves urban legend, folklore, life experience and heartache in this intimate anthology of modern horrors.

From the lauded author of The Queen of the Cicadas (which picked up starred reviews from PW, Kirkus and Booklist who called her "a dynamic and innovative voice") comes a short story collection of nightmares, dreams, desire and visions focused on the Chicana experience. V.Castro weaves urban legend, folklore, life experience and heartache in this personal journey beginning in south Texas: a bar where a devil dances the night away; a street fight in a neighborhood that may not have been a fight after all; a vengeful chola at the beginning of the apocalypse; mind swapping in the not so far future; satan who falls and finds herself in a brothel in Amsterdam; the keys to Mictlan given to a woman after she dies during a pandemic. The collection finishes with two longer tales: The Final Porn Star is a twist on the final girl trope and slasher, with a creature from Mexican folklore; and Truck Stop is an erotic horror romance with two hearts: a video store and a truck stop.

FLAME TREE PRESS is the imprint of long-standing Independent Flame Tree Publishing, dedicated to full-length original fiction in the horror and suspense, science fiction & fantasy, and crime / mystery / thriller categories. The list brings together fantastic new authors and the more established; the award winners, and exciting, original voices.


Praise For Mestiza Blood…
Praise for QUEEN OF THE CICADAS

"In the age of phony fiction, V. Castro is the voice of authenticity; una voz que lucha por la igualdad. Dark, atmospheric, sexy, and dangerous, her fiction brings readers her unfiltered Latinx essence and a unique pulpy flavor. Her work matters. Read it." - Gabino Iglesias, author of Coyote Songs

"In The Queen of the Cicadas, there's a thin, bloody veil between worlds, the past isn't past at all, and you can feel your heart beating in the pages, the words pulsing with life. Touch them if you dare, and don't be surprised if they quiver into flight all around you." - Stephen Graham Jones, NYT bestselling author of The Only Good Indians

"V. Castro writes like her blood is in the ink. Queen of the Cicadas is the best urban legend story since Candyman, layered and dark and hideously beautiful. It will get way under your skin. If Castro's not already on your radar, she should be." - Christopher Golden, New York Times bestselling author of Ararat and Red Hands

"Writing in breathtaking, atmospheric prose, Castro (Hairspray and Switchblades) merges brutal realism and supernatural terror to create a fierce, memorable tale of Mexican folklore and horror." - Publishers Weekly Starred Review

"Castro's novel shifts seamlessly from deliciously gory horror narrative to family saga to a tale of righteous vengeance, all while maintaining its unflinching condemnation of colonialism on both sides of the Mexican-American border. A tightly paced story of anti-colonial resistance and shared history that begs to be read in one sitting." - Kirkus Starred Review

"A riveting #ownvoices novel exploring Mexican folk tales and legends mingled with the history of Texas [...] Castro does not pull any punches. Readers seeking originality and a fresh take on well-worn horror tropes should pick up this novel by a dynamic and innovative voice in horror. - Booklist Starred Review

"Castro delivers an unflinching, honest, raw, and thought-provoking horror tale that is both serious in its social commentary and fun to read. For fans of gruesome, vengeance-themed horror that is deeply tied to its place and the marginalized identities of its protagonists" - Becky Spratford, Literary Journal

"[...] there's plenty to recommend this female-centric collection on. Readers interested in speculative explorations of Mexican American culture and mythology—or those just looking for action-packed, cathartic narratives—should snap this up."
— Publishers Weekly

"This collection will rip readers apart in the best way possible."
— Booklist Starred Review
Flame Tree Press, 9781787586161, 208pp.
Publication Date: January 25, 2022
About the Author
Violet Castro is a Mexican American writer originally from Texas now residing in the UK with her family. When not caring for her three children, she dedicates her time to writing.