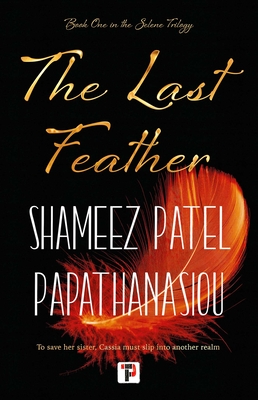 The Last Feather
Hardcover

* Individual store prices may vary.
Other Editions of This Title:
Paperback (7/19/2022)
Description
South African born, debut author brings a threat-and-danger, hidden-world fantasy with touches of Suzanne Collins which fans of VE Schwab or Sarah J Maas will love.

Twenty-two-year-old Cassia's sister is dying, and she doesn't know why. Cassia wakes up in another realm to find her missing best friend, Lucas, who knows how to save her sister.

Lucas is part of a community of Reborns, people who were born on earth and after death, were reborn in this realm with magical abilities. The original beings of the realm, the Firsts, rule over them.

To keep the Reborn numbers manageable, the king of the Firsts releases a curse to cull them. Cassia needs to break the curse before her time runs out and she is trapped there forever.

FLAME TREE PRESS is the imprint of long-standing independent Flame Tree Publishing, dedicated to full-length original fiction in the horror and suspense, science fiction & fantasy, and crime / mystery / thriller categories. The list brings together fantastic new authors and the more established; the award winners, and exciting, original voices. Learn more about Flame Tree Press at www.flametreepress.com and connect on social media @FlameTreePress
Praise For The Last Feather…
"I can't believe it's author's debut book. Because here I am lying in bed after finishing this book still under the spell of it. It was definitely a solid 5 ?? read for me. Thank you Shameez Patel."
— Nida Shabbir, blogger

"Papathanasiou debuts and launches the Selene Trilogy with a fierce, appealing story of determination, magical spells, and the bonds of friendship. [Her] talent for writing resolute characters makes her diverse cast sing, and she infuses Cassia's adventure with emotion. This enchanting portal fantasy will have readers hooked."
— Publishers Weekly

"Teen readers will enjoy this tale of a stubborn, clever heroine mixed up with court politics, magic, and a hint of romance."
— STARRED REVIEW, Booklist

"Fans of Catherynne M. Valente's Fairyland series will find a heroine of similar stubbornness, cleverness, and loyalty in a grown-up setting, while Sarah J. Maas or Laurell K. Hamilton enthusiasts will enjoy the fantasy politics, magic, and hints of romance."
— STARRED REVIEW, Booklist
Flame Tree Press, 9781787587106, 288pp.
Publication Date: July 19, 2022
About the Author
Shameez Patel Papathanasiou was born and raised in Cape Town, South Africa. She is a civil engineer by day, fantasy author by night and a choc-chip cookie fiend somewhere in between. Her literary adventures take her to new worlds filled with magic, monsters and someone to fall in love with.