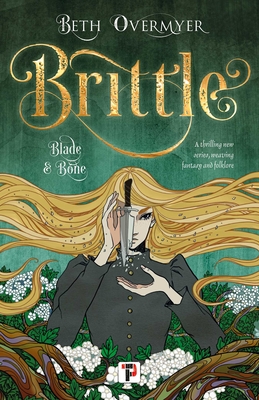 Brittle (Blade and Bone)
Paperback

* Individual store prices may vary.
Description
Readers of Carissa Broadbent will love this thrilling new series, from the author of The Immortal Goblet, weaving an intriguing world of fantasy and folklore.

After the murder of her father – which no one but her believes happened – Verve just wants to hold her family together and take on the role of provider. Unfortunately, a cruel fae lord believes she knows the location of an ancient magical weapon and steals her away to Letorheas, realm of the fairies. The fae lord seems to want something from Verve that goes beyond the weapon, something that many doubt she can provide. Verve must find a way to navigate the strangeness of Letorheas and embrace a destiny more intertwined with the fae than she would like to believe.

FLAME TREE PRESS is the imprint of long-standing independent Flame Tree Publishing, dedicated to full-length original fiction in the horror and suspense, science fiction & fantasy, and crime / mystery / thriller categories. The list brings together fantastic new authors and the more established; the award winners, and exciting, original voices. Learn more about Flame Tree Press at www.flametreepress.com and connect on social media @FlameTreePress
Praise For Brittle (Blade and Bone)…
On the fantastic conclusion to The Goblets Immortal series. "Fans of pseudo-medieval fantasy quest tales and authors like Terry Brooks, Anne McCaffrey, and Brandon Sanderson... will get a kick out of Overmyer's action-packed series."
— Booklist
Flame Tree Press, 9781787587915, 288pp.
Publication Date: August 15, 2023
About the Author
Beth Overmyer was born and raised near Oberlin, Ohio, and she hasn't moved far since. One of Beth's greatest inspirations for her writing is found in the author J.R.R. Tolkien, especially his fantasy novels The Hobbit and The Lord of the Rings trilogy. Other literary heroes include Brandon Sanderson, Agatha Christie, Jane Austen, Douglas Adams, and Neil Gaiman. When not writing, Beth can be found reading fantasy novels, cozy mysteries, and non-fiction. She has also volunteered at her local public library as a creative writing club leader. Most of Beth's education was at home, taught by her mother and various moms in P.A.T.H. and N.iC.H.E., two homeschool groups that met at churches in northern Ohio. After high school, Beth attended a community college, studying theater. She decided that the written word was more her style, so after taking a few courses, Beth took to writing as her career.