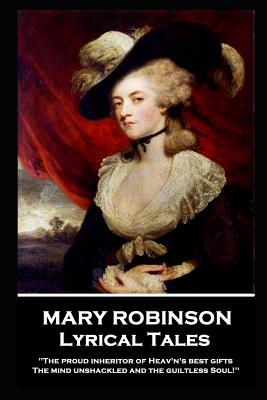 Mary Robinson - Lyrical Tales
'The proud inheritor of Heav's's best gifts, The mind unshackled and the guiltless soul''
Paperback

* Individual store prices may vary.
Description
Mary Robinson was born in Bristol, England on 27th November 1757.
Her father, Nicholas Darby, a naval captain, deserted her mother, Hester, for his mistress when Mary was still a child. Without the support of her husband, Hester Darby supported her five children by opening a school for young girls in Little Chelsea, London, (where Mary was teaching by her 14th birthday). On a short return to the family, Captain Darby had the school closed which under English law he was entitled to do.
Mary, who at one point attended a school run by the social reformer and poet Hannah More, came to the attention of actor David Garrick. Acting was to her way into the arts, although in those times it was also a chaotic and difficult time for any actress.
A marriage at 15 to a clerk who claimed a large inheritance proved troublesome. After the marriage Mary discovered that her husband had no inheritance but he did have a taste for living way beyond his means and for multiple affairs that he made no effort to hide. Her husband though was now arrested and imprisoned for debt in Fleet Prison. Mary and their six-month old child accompanied him.
However it was here that she discovered she could publish poetry and earn money, as well as be distracted from the harsh reality around her. The result was 'Poems by Mrs. Robinson', published in 1775.
After their release from prison Mary returned to the theatre. Her first performance was playing Juliet, at Drury Lane Theatre in December 1776. Playing Perdita 'A Winter's Tale' at 21 in 1779 attracted the attention of the young Prince of Wales and the offer of twenty thousand pounds to become his mistress.
However, the Prince ended the affair in 1781 and refused to pay the promised sum.
From the late 1780s, Mary's poetry distinguished her so much that she was referred to as 'the English Sappho'. In addition she authored eight novels, three plays, feminist treatises, and an autobiographical manuscript that was incomplete at the time of her death.
Mary Darby Robinson died in poverty at Englefield Cottage, Englefield Green, Surrey, on 26th December 1800, aged 44, having survived several years of ill health.
Portable Poetry, 9781787804067, 94pp.
Publication Date: June 11, 2019