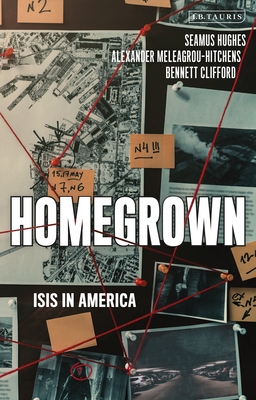 Homegrown
Isis in America
Hardcover

* Individual store prices may vary.
Description
How big is the threat posed by American ISIS supporters? How many Americans have joined ISIS and how many want to return to the United States? Compared to participation by Americans in other jihadist groups, the scale of American involvement in jihadist activity today is unprecedented. This book, from one of the leading counter-terror centres, draws on first-hand interviews with former American Islamic State members and law enforcement officials who tracked them, and includes detailed analysis of the court cases against them and their social media presence. Homegrown reveals how and why ISIS was able to radicalize and recruit a new generation of jihadist sympathizers in America.
I. B. Tauris & Company, 9781788314855, 248pp.
Publication Date: November 12, 2020
About the Author
Dr. Alexander Meleagrou-Hitchens is the Research Director of the Program on Extremism at George Washington University and a Lecturer in the War Studies Department at King's College London. Prior to joining the Program on Extremism, Dr. Meleagrou-Hitchens was the Head of Research at the International Centre for the Study of Radicalisation (ICSR). An expert on extremist movements, he has researched and conducted fieldwork on jihadist groups in the United States, United Kingdom, East Africa, and Iraq with a focus on how they attract recruits.Seamus Hughes is the Deputy Director of the Program on Extremism at George Washington University. He is an expert on terrorism, homegrown violent extremism, and countering violent extremism (CVE). He regularly provides commentary to media outlets, including the New York Times, The Washington Post, the Wall Street Journal, and BBC. Hughes previously worked at the National Counterterrorism Center (NCTC), serving as a lead staffer on U.S. government efforts to implement a national CVE strategy. Hughes created a groundbreaking intervention program to help steer individuals away from violence through non-law enforcement means, and worked closely with the FBI Joint Terrorism Task Force, Fusion Centers, and U.S. Attorney Offices.Bennett Clifford is a Research Fellow at the Program on Extremism. He studies supporters of extremist groups in the United States and in the Caucasus, Central Asia, and the Balkans. In addition, Clifford studies terrorists' adaptation of digital communications technologies for operational and strategic planning. He is the author of the Program on Extremism reports The Travelers: American Jihadists in Syria and Iraq and Encrypted Extremism: Inside the English-Speaking Islamic State Ecosystem on Telegram, and his research is frequently featured in academic and popular publications, including the Atlantic, Lawfare, and the CTC Sentinel. Clifford is a Master of Arts in Law and Diplomacy candidate at the Fletcher School of Law and Diplomacy.