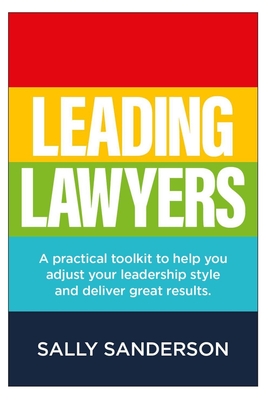 Leading Lawyers
A Practical Toolkit to Help You Adjust Your Leadership Style and Deliver Great Results
Paperback

* Individual store prices may vary.
Description
"The beauty of the ABCDE model and toolkit is that it is simple but not simplistic, it's user-friendly and works in practice." Joanne Gubbay, Former Head of Learning and Development, Slaughter and May Lead your team of lawyers to new heights with this tried-and-tested toolkit, based on 25 years' practical experience of getting the best out of lawyers. Leading Lawyers distils 25 years of experience at helping people do just that into one easy-to-read practical toolkit. Based on the successful ABCDE methodology, this guide will help you identify your natural leadership style, identify the various needs and personalities in your team of lawyers, and align everything to become a truly impactful and supportive leader. Packed with real-life inspiring examples, ready-made tools and memorable tips, Leading Lawyers will help you reflect on your own communication preferences, and use what you learn to get different stakeholders and different personalities on board. From scoping the project with a client to reviewing progress and success, from on-boarding a new team member to tackling a stubborn problem, there are examples each step of the way and opportunities to plan how to use the approach in practice, so you can become an even more effective team leader.
Practical Inspiration Publishing, 9781788602921, 168pp.
Publication Date: November 1, 2021
About the Author
Sally Sanderson is a multi-award-winning consultant to law firms. For over 25 years she has developed and coached lawyers, using personality profiling to increase self-awareness and speed up behavioural change. She specialises in leadership, emerging leaders, people and project management. Working internationally, her clients include global law firms and niche practices. The ABCDE approach has been tested on thousands of lawyers across the world. An Oxford graduate, she spent the first half of her career developing leaders in a global accountancy firm and a City law firm, before setting up Profex Consulting in 2001 to provide bespoke development and coaching programmes. She is a Fellow of the Chartered Institute of Personnel and Development, has spoken at national conferences, written articles, a chapter in 'Mentoring and Coaching for Lawyers' (Globe Business Publishing, 2014) and was a member of Cass Business School research team on Leadership and Innovation.