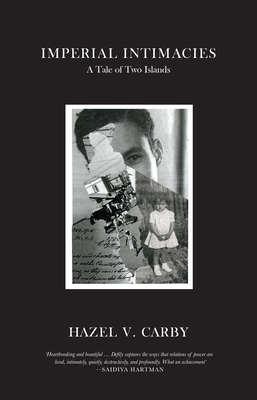 Imperial Intimacies
A Tale of Two Islands
Hardcover

* Individual store prices may vary.
Other Editions of This Title:
Paperback (10/12/2021)
Description
Winner of the British Academy's Nayef Al-Rodhan Prize for Global Cultural Understanding 2020

Highly commended for PEN Hessell–Tiltman Prize 2020

A haunting and evocative history of British empire, told through one woman's family story

"Where are you from?" was the question hounding Hazel Carby as a girl in post-war London. One of the so-called brown babies of the Windrush generation, born to a Jamaican father and Welsh mother, Carby's place in her home, her neighbourhood, and her country of birth was always in doubt.

Emerging from this setting, Carby untangles the threads connecting members of her family in a web woven by the British Empire across the Atlantic. We meet Carby's working-class grandmother Beatrice, a seamstress challenged by poverty and disease. In England, she was thrilled by the cosmopolitan fantasies of empire, by cities built with slave-trade profits, and by street peddlers selling fashionable Jamaican delicacies. In Jamaica, we follow the lives of both the "white Carbys" and the "black Carbys," including Mary Ivey, a free woman of colour, whose children are fathered by Lilly Carby, a British soldier who arrived in Jamaica in 1789 to be absorbed into the plantation aristocracy. And we discover the hidden stories of Bridget and Nancy, two women owned by Lilly who survived the Middle Passage from Africa to the Caribbean.

Moving between Jamaican plantations, the hills of Devon, the port cities of Bristol, Cardiff, and Kingston, and the working-class estates of South London, Carby's family story is at once an intimate personal history and a sweeping summation of the violent entanglement of two islands. In charting British empire's interweaving of capital and bodies, public language and private feeling, Carby will find herself reckoning with what she can tell, what she can remember, and what she can bear to know.
Praise For Imperial Intimacies: A Tale of Two Islands…
"Captivating … offers interesting perspectives on the personal impact of capitalism and colonialism."
—Bernardine Evaristo, Times Literary Supplement ("Books of the Year, 2019")

"This beautifully written book raises the bar for political life-writing. Hazel Carby invites readers to follow a reconstructive quest propelled by memory, archive and imagination. It is a journey of discovery that forcefully contextualises the injustice dished out by British governments to the 'Windrush generation' and their rebel offspring. Carby disrupts fixed notions of racial identity that contort our understanding of Britain's colonial and postcolonial history."
—Paul Gilroy, author of Darker Than Blue and The Black Atlantic

"Hazel Carby assembles a sprawling account of how imperialism—a web of social relations, labor markets, and trade networks—conditions private feeling. The resulting narrative is something like an affective history of the British Empire."
—Maya Binyam, New Yorker

"Angry and lyrical, uncompromising and vivid, Imperial Intimacies is a daughter's reckoning with the bitter legacies of slavery and colonialism as they come to shape the lives of families and individuals, their dreams and desires. A deeply searching and often moving book, it made me think again about the writing of family history and about what it means to be British."
—Alison Light, author of Common People

"An elegant memoir which pivots beautifully around those twin imposters, 'belonging' and 'home'. Richly suffused with a love of people and place, Carby's familiar intellectual rigor never lets us drift off course towards nostalgia."
—Caryl Phillips, author of A View of the Empire at Sunset

"A heartbreaking and beautiful account of growing-up in the impossible space between mutually exclusive terms—Black and British. The history of empire, slavery and colonialism unfolds in the exquisite and painful details of this unflinching auto-portrait. Carby deftly captures the ways that relations of power are lived, intimately, quietly, destructively, and profoundly. What an achievement.
—Saidiya Hartman, author of Wayward Lives, Beautiful Experiments

"Hazel Carby is a foundational scholar of race, class, and empire as critical lenses for understanding culture. In Imperial Intimacies she shares the way that stories—often difficult to mine and face—are at the core of how her indispensable world view was formed. Imperial Intimacies is an epic, generous book that illuminates black Britain as never before and shows us how a great thinker and educator was formed. It is beautifully told, a treasured look into how a girl came to believe that reading and critical thinking could help mend a broken world and give us tools not only for living in it, but for understanding it. I'll treasure this book forever."
—Elizabeth Alexander, author of The Light of the World and American Sublime

"Carby's book lies somewhere between what is recorded in official archives, what is remembered in family lore, and what is considered an affective draw to intellectual questions. The spiny precision of the historical … allows the reader to feel erudite, but Carby's most captivating writing is when she feels on the page."
—Tiana Reid, Bookforum

"Exceptional … By using examples from her own background, she brilliantly demonstrates that 'the personal' is indeed politi-cal."
—Manuela Latchoumaya, LSE Review of Books

"While the minotaur of the British imperial past is very far from dead and buried, Carby's memoir offers a course, a set of clues; it brings us a bit closer to the mouth of the maze."
—Phoebe Braithwaite, Dissent

"An arresting, courageous, and urgently needed memoir that doubles as social, cultural, and political history."
—Gaiutra Bahadur, Nation

"The poignancy in this moving and patient memoir—Carby writes with equal eloquence about work on the Great Western Railway, lichen and the neglected materiality of black British life—centres on her dedication to discovering (to paraphrase James Baldwin) from whence she came."
—Paul Mendez, Times Literary Supplement

"Imperial Intimacies is part of a well-established and growing body of literature that explores the margins and gaps in the historical record … For those interested in imperialism, postcolonialism, black studies, black British history, and archival studies, this is an essential book to consider."
—Gabriella Rodriguez, Ethnic and Third World Literatures

"In Imperial Intimacies, Carby delicately balances the critical distance of the scholar with the profound subjectivity of the memoirist … By exploring the relations between working class Welsh life and the Jamaican colony, Bristol's industrial center and the transatlantic slave economy, and the racial transgressions in the intimacies between her own parents, Carby's critical project illuminates the histories of the British empire that are embedded in the spaces of our everyday lives."
—Sabrina Alli, Guernica

"A magisterial excavation of black Britishness that threads personal and family memoir together with archival history … Moving back and forth between Britain and Jamaica, capturing moments spanning nearly three hundred years, Carby shows how the being of (British) blackness has always been a kind of becoming, something in the making."
—Matthew Omelsky, InVisible Culturre

"Carby tells the 'tale' of the complex bonds of kinship between Britain and Jamaica through the encounter between her Welsh mother, Beatrice's daughter Iris, and her Jamaican airman father, Carl Collin Carby … Imperial Intimacies is in part a work of mourning for those people whose memories are beyond reach."
—Mary Hannity, London Review of Books

"Imperial Intimacies is nothing short of a narratological masterpiece. The assemblage of various historical archives—family photographs, product advertisements, registers of the enslaved—coupled with the rhetorical force of a writer who incisively narrates at the threshold of her own voice and story, produces a book that is itself an archive of the fractal, boundary-bending connections that have forged Empire and its far-flung subjects."
—Henghameh Saroukhani, Wasafiri

"[Carby] poignantly portrays how her father, a man of great dignity, had believed in the promises and ideals proclaimed by the British. Carby moves the reader through every possible response to the complex patterns of family lineage under empire."
—Madeleine Bunting, Guardian
Verso, 9781788735094, 416pp.
Publication Date: September 24, 2019
About the Author
Hazel V. Carby is a co-author of The Empire Strikes Back: Race and Racism in 70s Britain and author of Cultures in Babylon: Black Britain and African America, Race Men, and Reconstructing Womanhood. For three decades she taught at Yale University as the Charles C. and Dorothea S. Dilley Professor of African American Studies and Professor of American Studies.
or
Not Currently Available for Direct Purchase