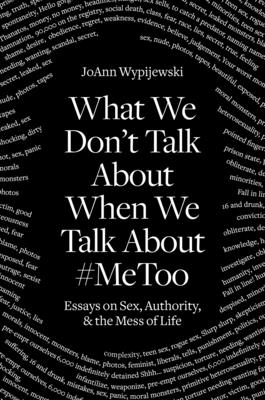 What We Don't Talk About When We Talk About #MeToo
Essays on Sex, Authority & the Mess of Life
Hardcover

* Individual store prices may vary.
Other Editions of This Title:
Paperback (5/11/2021)
Description
An exquisite examination of a sexual culture in crisis

What if we took sex out of the box marked "special," either the worst or best thing that a human person can experience, and considered it within the complexity of reality? In this extraordinary book, despite longstanding tabloid-style sexual preoccupations with monsters and victims, shame and virtue, JoAnn Wypijewski does exactly that.

From the HIV crisis to the paedophile priest panic, Woody Allen to Brett Kavanaugh, child pornography to Abu Ghraib, Wypijewski takes the most famous sex panics of the last decades and turns them inside out, weaving what together becomes a searing indictment of modern sexual politics, exposing the myriad ways sex panics and the expansion of the punitive state are intertwined.

What emerges is an examination of the multiple ways in which the ever-expanding default language of monsters and victims has contributed to the repressive power of the state. Politics exists in the mess of life. Sex does too, Wypijewski insists, and so must sexual politics, to make any sense at all.
Praise For What We Don't Talk About When We Talk About #MeToo: Essays on Sex, Authority & the Mess of Life…
"What We Don't Talk About When We Talk About #MeToo speaks for many women who resist (sometimes quietly) the peer pressure that has no name, and for women dismayed by the politics of belief infecting our secular conversations about sex. Injustice has become a sustainable resource, and JoAnn Wypijewski has been documenting its variations quite eloquently for 25 years. Her reporting is solid and energetic. Wypijewski knows how to unpack a monster."
—Tracy Quan, author of Diary of a Manhattan Call Girl

"Just causes, Wypijewski reminds us, have a bad habit of overreaching justice. Revisiting some of the most notorious sex abuse cases of recent times, she shows how little attention the media has given to actual facts and alternative interpretations. These incisive and controversial essays are a tour de force by a brilliant journalist with unbounded empathy."
—Mike Davis

"Wypijewski lays bare the twisted logics we employ to convince ourselves that there are easy distinctions between love, brutality, sex, and capitalism. Forceful and brilliant analysis, an unrelenting excavation not just of what happened and to whom, but what it means to all of us watching from the sidelines. Wypijewski, like few other writers, provides an archaelogy of sex which is in turn an archaelogy of power."
—Yasmin Nair

"JoAnn Wypijewski stimulates us to think freshly about sex and sexual politics, and she is not afraid to infuriate both those who consider themselves sexual progressives and traditional conservatives. Let's call a town meeting of the whole country to grapple with the insights, the fury, and most of all the wisdom in this essential book."
—Peter Davis, Academy Award winning filmmaker of Hearts and Minds, author of Girl of My Dreams

"Uncomfortable, powerful, and moving; few writers can give us the nitty-gritty of sex and its messiness within the grand sweep of history, and get both the big picture and the details exactly right."
—Jeffrey Escoffier, author of American Homo, Research Associate at the Brooklyn Institute for Social Research

"JoAnn Wypijewski has written steadily and courageously on topics that paralyze other reporters into silence or lukewarm compromise. She knows that our horror of crime springs from the same root as our need for scapegoats. Her essays are always perceptive, and always worth reading"
—David Bromwich, author of American Breakdown: The Trump Years and How They Befell Us

"From Woody Allen to Matthew Shepherd to monster priests and Harvey Weinsteins, today's high sex scandals are media and courtroom myths of total innocence versus total guilt—larded with very real, globalized rage. They're postmodern passion plays whose buy-in, not just from patriarchs but also from feminists, has rendered these narratives chillingly sterile—and dead in their sterility. For years, JoAnn Wypijewski has been packing her bags and visiting the venues of civic libido behind the scandals. And then, with beautiful prose and complex analysis, she reports back to us the true messiness: of sex, life, late capitalism, fear, and yet the hope that still breathes in the mess. Her work is a national treasure."
—Debbie Nathan, journalist, co-author of Satan's Silence: Ritual Abuse and the Making of a Modern American Witch Hunt

"JoAnn Wypijewski is the finest and most fearless literary journalist writing today, and in these crucial and stunningly beautiful essays she brings into bracing focus the deepest politics of desire. No other writer is telling these stories; maybe no other writer could with such generosity of spirit. 'Mercy is the scandal now,' she writes of the the ways in which too many have come to prefer the counting of sins to the dream of liberation, but this is no book of lamentations. Through a series of moments intimately observed, Wypijewski summons us again to consider the possibilities for pleasure, eros as ally, in any struggle to get free. Hers is a prophetic voice."
—Jeff Sharlet, author of The Family and This Brilliant Darkness

"Wypijewski is an original thinker as well as a careful reporter, and this collection offers exemplary exercises in narrative journalism."
—Wendy Kaminer, Spiked

"What We Don't Talk About When We Talk About #MeToo consists of 16 deep dives into events we thought we understood, revealing 'the mess of life' in all its glorious refusal to be squeezed into convenient boxes. A tireless investigative journalist, Wypijewski travels to cities, small towns, and courtrooms to give us the full stories that 'exist in the region of raw emotion, the region of danger and fury. Here be demons.'"
—Dr. Carol Tavris, Skeptic

"[An] invaluable collection."
—David Rosen, New York Journal of Books

"Wypijewski is perhaps at her most exciting when she models the 'sensual intelligence' she calls for—namely, in her short celebrations of Madonna and David Wojnarowicz. The mark of her humanity is her ability to sympathize even with those she ends up condemning. She begins by gesturing at a sexual politics that passes beyond vengeance; I hope someday she envisions one that takes us all the way to pleasure."
—Becca Rothfeld, Times Literary Supplement

"Wise, compassionate, and refreshingly sex-positive … With courage and a veteran journalist's attention to detail, [Wypijewski] investigates and explores the stories of the real human beings behind the sex panicked headlines of our times."
—Susan Block, CounterPunch

"Wypijewski's strength is in restoring a sense of profundity and nuance—the factors left out when polarising victim vs monster and the contradictions alive in human relations, with human sexuality, and therefore vulnerability, at its centre."
—Morning Star

"Not only diagnoses what's wrong with mainstream, carceral feminism but also helps us plot a way forward."
—Maia Hibbett, Baffler

"Wypijewski is part of a very brave group of critical thinkers who oppose the culture of punishment that has found a media-driven home in feminism today."
—Richard Goldstein, Medium

"A dauntless, provocatively ethical book that asks moral questions."
—Susie Day, Gay City News

"Unpicks the logic that allows us to convince ourselves that there are easy distinctions to be made between love and brutality."
—Rachel Cooke, Observer
Verso, 9781788738057, 320pp.
Publication Date: June 2, 2020
About the Author
JoAnn Wypijewski is a writer and editor based in New York. For eighteen years, from 1982 to 2000, she was an editor at The Nation magazine. She has written for the magazine, as well as for Harper's, CounterPunch, The New York Times Magazine, the Guardian, and other publications. She is on the editorial committee of the New Left Review. She was the co-editor with Kevin Alexander Gray and Jeffrey St. Clair, of Killing Trayvons: An Anthology of American Violence.
or
Not Currently Available for Direct Purchase