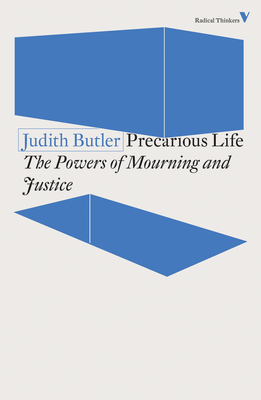 Precarious Life
The Powers of Mourning and Violence
Paperback

* Individual store prices may vary.
Other Editions of This Title:
Paperback (8/17/2006)
Description
Responding to the US's perpetual war, Butler explores how mourning could inspire solidarity.

In this profound appraisal of post-September 11, 2001 America, Judith Butler considers the conditions of heightened vulnerability and aggression that followed from the attack on the US, and US retaliation. Judith Butler critiques the use of violence that has emerged as a response to loss, and argues that the dislocation of first-world privilege offers instead a chance to imagine a world in which that violence might be minimized and in which interdependency becomes acknowledged as the basis for a global political community.

Butler considers the means by which some lives become grief-worthy, while others are perceived as undeserving of grief or even incomprehensible as lives. She discusses the political implications of sovereignty in light of the prisoners in Guantanamo Bay. She argues against the anti-intellectual current of contemporary US patriotism and the power of censorship during times of war. Finally, she takes on the question of when and why anti-semitism is leveled as a charge against those who voice criticisms of the Israeli state. She counters that we have a responsibility to speak out against both Israeli injustices and anti-semitism, and argues against the rhetorical use of the charge of anti-semitism to quell public debate.

In her most impassioned and personal book to date, Judith Butler responds to the current US policies to wage perpetual war, and calls for a deeper understanding of how mourning and violence might instead inspire solidarity and a quest form global justice.
Praise For Precarious Life: The Powers of Mourning and Violence…
"A book that shines with the splendor of engaged thought."—Brooklyn Rail

"Hers is a unique voice f courage and conceptual ambition that addresses public life from the perspective of psychic reality, encouraging us to acknowledge the solidarity and the suffering through which we emerge as subjects of freedom." —Homi K. Bhabha

"If Precarious Life represents a departure from the subject of gender, it's clear that its author is still interested in stirring up trouble—academic, political and otherwise." —Bookforum

"If we are interested in arresting cycles of violence to produce less violent outcomes, it is no doubt important to ask what, politically, might be made of grief besides a cry for war." —Judith Butler

"One of Butler's most topical and accessible books." —Women's Review of Books
Verso, 9781788738613, 192pp.
Publication Date: October 13, 2020
About the Author
Judith Butler is Maxine Elliot Professor in the Departments of Rhetoric and Comparative Literature at the University of California, Berkeley. She is the author of Frames of War, Precarious Life, The Psychic Life of Power, Excitable Speech, Bodies that Matter, Gender Trouble, and with Slavoj Žižek and Ernesto Laclau, Contingency, Hegemony, Universality.