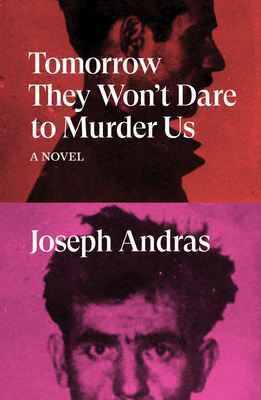 Tomorrow They Won't Dare to Murder Us
A Novel
Paperback

* Individual store prices may vary.
Description
Lyrical and radical, a debut novel that created a sensation in France

Winner of the Prix Goncourt for first novel, one of the most prestigious literary awards in France

A young revolutionary plants a bomb in a factory on the outskirts of Algiers during the Algerian War. The bomb is timed to explode after work hours, so no one will be hurt. But the authorities have been watching. He is caught, the bomb is defused, and he is tortured, tried in a day, condemned to death, and thrown into a cell to await the guillotine. A routine event, perhaps, in a brutal conflict that ended the lives of more than a million Muslim Algerians.

But what if the militant is a "pied-noir"? What if his lover was a member of the French Resistance? What happens to a "European" who chooses the side of anti-colonialism?

By turns lyrical, meditative, and heart-stoppingly suspenseful, this novel by Joseph Andras, based on a true story, was a literary and political sensation in France, winning the Prix Goncourt for First Novel and being acclaimed by Le Monde as "vibrantly lyrical and somber" and by the journal La Croix as a "masterpiece".
Praise For Tomorrow They Won't Dare to Murder Us: A Novel…
"Joseph Andras writes with the swiftness of lightning. In vivid strokes, he illuminates both the interiority of a courageous man facing death for his convictions and the devastation wreaked by French colonialism in Algeria. The moral and political urgency, as well as the depth of the tragedy, still resonates in Andras's powerful account of the life and death of Fernand Iveton."
—Viet Thanh Nguyen, author of The Committed

"Deeply affecting … A remarkable book."
—Morning Star

"Pithy … In Leser's translation, Andras's prose is like the films of Jean-Pierre Melville, by turns raw and atmospheric, philosophical and hard-boiled."
—Matt Hartman, Protean Magazine

"As cogent as it is compelling."
—Jeremy Garber, PowellsBooks.Blog

"Remarkable and original … a short book that leaves a deep impression."
—New Internationalist

"Tomorrow They Won't Dare to Murder Us subverts colonial morality and interrogates a philosophical dilemma that is still very much alive in our contemporary consciousness: how can Western powers torture, incarcerate, and execute 'terrorists' without first reckoning with their own relentless, centuries-long terrorism? And who is to determine which side serves justice and which perishes?"
—Brady Brickner-Wood, Ploughshares

"Tightly coiled … Andras is fastidious about adhering to the known facts. His restraint is commendable."
—Literary Review

"Vivid … Iveton not only becomes a historical symbol, but reanimated as a flesh-and-blood man who loved and was loved back."
—Rebecca Liu, Prospect

"Electrifying … Tomorrow They Won't Dare to Murder Us insists on plumbing the thorniest details of history's scandal, suggesting—convincingly—that certain truths are best revealed in fiction."
—Kaiama L. Glover, New York Times

"Andras delivers a brisk, angry slap of outraged idealism … Powerful."
—Boyd Tonkin, Spectator

"A stunning book."
—Lucy Writers

"Andras brings the story [of Fernand Iveton] back to life with painful immediacy and palpable urgency."
—The Arts Desk

"Tomorrow They Won't Dare to Murder Us is a compact narrative with an elevated pulse and a singular purpose—to show how an unexceptional person may act exceptionally when oppression is too threatening to one's community to ignore … [Andras'] prose is lucid, unsparing but also animated by a certain poised affection for its oppressed characters. [His] unfussy, vivid phrasing may evoke the style of another Algeria-based novel—namely Camus' L'etranger."
—Ron Slate, On the Seawall

"An intense portrait of a moment in history … in an equally intense and lyrical translation by Simon Leser … a powerful book."
—Lunate Fiction

"A clear-eyed recreation of postwar Communism and the armed battle against tyranny, shot through with intense prose and insight into the characters' inner lives."
—Publishers Weekly

"A promising debut … Andras revives a lost moment in history."
—Kirkus Reviews

"[Tomorrow They Won't Dare to Murder Us] is just 137 pages long, but every one of them is taut and fraught, a nightmare of noble intentions gone horribly wrong."
—James Tarmy, Bloomberg Businessweek ("The 14 Books to Put on Your Reading List This Spring")

"Short, intense, the best book I've read this month."
—David Mills, Sunday Times

"Editors' Choice from New York Times Book Review."
—n/a

"A modern J'Accuse that puts the state in the dock … condemnatory and heartfelt."
—Sanjay Sipahimalani, Money Control

"Tomorrow They Won't Dare to Murder Us is a lean, mean slab of righteous radicalism and unjust retribution. A consummate novelist, Joseph Andras is a talent not to be ignored."
—Bookshop.org

"Subtle, concise, evocative, and poetic."
—Ron Jacobs, CounterPunch

"Structured around the events of a few bleak months, the circumstances, both personal and political, that led Iveton to his predicament are revealed in flashbacks that are seamlessly inserted into the text."
—Mark Rappolt, ArtReview

"Compelling."
—Declan O'Driscoll, Irish Times

"An austerely compelling account of the capture, trial and execution … Andras's bleak account is leavened by passages of vibrant lyricism."
—Laura Garmeson, Times Literary Supplement
Verso Fiction, 9781788738712, 144pp.
Publication Date: February 23, 2021
About the Author
Joseph Andras is the author of the novels De nos frères blessés and Kanaky. Awarded the Prix Goncourt du premier roman for De nos frères blessés, he refused the prize, explaining his belief that "competition and rivalry were foreign to writing and creation." He lives in Le Havre.