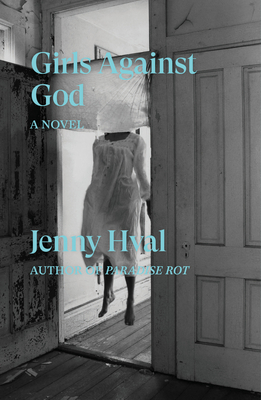 Girls Against God
A Novel
Paperback

* Individual store prices may vary.
Description
A genre-warping, time-travelling horror novel-slash-feminist manifesto for fans of Clarice Lispector and Jeanette Winterson.

Welcome to 1990s Norway. White picket fences run in neat rows and Christian conservatism runs deep. But as the Artist considers her work, things start stirring themselves up. In a corner of Oslo a coven of witches begin cooking up some curses. A time-travelling Edvard Munch arrives in town to join a death metal band, closely pursued by the teenaged subject of his painting Puberty, who has murder on her mind. Meanwhile, out deep in the forest, a group of school girls get very lost and things get very strange. And awful things happen in aspic.

Jenny Hval's latest novel is a radical fusion of queer feminist theory and experimental horror, and a unique treatise on magic, writing and art.

"Strange and lyrical. Hval's writing is surreal and rich with the grotesque banalities of human existence." —Publishers Weekly

"The themes of alienation, queerness, and the unsettling nature of desire align Hval with modern mainstays like Chris Kraus, Ottessa Moshfegh, and Maggie Nelson." —Pitchfork
Praise For Girls Against God: A Novel…
"This genre-bending novel from a self-described gloomy child queen blends feminism and the occult with a touch of time-travel."
–Boston Globe

"An incendiary genre-bending novel. Throughout, Hval employs a dirge-like repetition of themes (feminist rage prominent among them), which enlivens her witchy visions and sets the stage for a reincarnated Edvard Munch, on the run from the vengeful subject of his painting Puberty. Hval's fascinating exploration is not for the faint of heart, but those who like it dark will find this right up their alley."
–Publishers Weekly

"Astute."
—Kirkus Reviews

"[Girls Against God] is part fever dream, part manifesto, and part nostalgic reminiscing, with a hefty dose of feminist and queer theory for good measure … Chaotic yet ordered, Hval dives deeply into the process of self-discovery. [Her] language is visceral and haunting, corporal and carnal."
—Carolyn Ciesla, Booklist

"This genre-bending novel from a self-described gloomy child queen blends feminism and the occult with a touch of time travel."
—Joshunda Sanders, Boston Globe

"The atmosphere of Girls against God is on its surface bleak and unforgiving and yet beneath that impression there is a second story about the strength and solidarity of despised women."
—David Renton, Morning Star

"[In] Girls Against God, Hval plunges up to her elbows in the thick, black, chthonic goo of rebellion and angst, through the quintessentially Scandinavian medium of black metal. The black-metal scene has historically been extremely sexist, but Hval reclaims it for the hateful, nihilistic teenage girls of the world with a decades-spanning tale of cinematic terrorism, political witchcraft, and satanic noise."
—AV Club

"What begins with dressing as a goth and cursing at school morphs into witches' covens and fantastic demonic, cannibalistic banquets. Along the way Hval segues into the role of language (Norwegian, but also English) as a tool of both suppression and liberation, and the role of digital technology in the same."
—Mark Rappolt, ArtReview

"Hval is one of the few musicians to branch out into the world of literary fiction. For Hval, it is a sideline that makes total sense, working as an extension of her atmospheric sound and descriptive, inquisitive lyrics."
—Leonie Cooper, Guardian

"It is Hval's unflinching attitude to mixing genres that has brought both her essays and her bewitching, otherworldly music to critical acclaim … Hval is best in her moments of dark humour and in her writing on femininity."
—Baya Simons, Financial Times

"Ambitious … [Girls Against God] has much of interest to say about the loneliness and pleasure of adolescent blasphemy, with totems of patriarchal Norwegian authority such as Knut Hamsun, Henrik Ibsen, Edvard Munch, and the Lutheran church singled out in the narrator's crosshairs."
—George MacBeth, Asymptote Journal

"Anti-bourgeois and feminist, soaked in conviction and rage."
—Cal Revely-Calder, Telegraph

"Strange and seductive and challenging and, at times, very funny … a reminder that musician-turned-author Hval, is one of the most intriguing, provocative artists around at the moment."
—Teddy Jamieson, Herald

"Girls Against God covers every angsty young woman's favourite subjects. Witchcraft, heavy metal, viscera, and hatred. It's a book in the grand tradition of Kathy Acker and women surrealists everywhere, dancing through space and time into different dimensions."
—India Lewis, The Arts Desk

"An excellent, bewitching read. Jenny Hval's musical ability makes her a natural novelist—her writing often feeling like a blend of lyrics and essays. Girls Against God is a terrifying, striking fusion of the occult and female repression. "
—Laura Mehers, Indiependent

"In Girls Against God, Hval challenges the form and conventions of the novel once again: a vivid, seething voice narrates a series of apocalyptic events cut together with food fights, black metal shows, black magic, and surreal, witchy rituals."
—Alexandra Kleeman, Lit Hub

"Hval, who is known for using body imagery to express political ideas about art, depicts cultish rituals to subvert what she sees as 'the restrictive framework of our daily lives.'"
—New Yorker

"Girls Against God is compelling, surprising, and frequently inspiring … laced throughout with powerful urban imagery and striking turns of phrase."
—Andrea Tallarita, PopMatters

"Truly transgressive."
—Terri-Jane Dow, Severine

"[Girls Against God] is a must-read for anyone looking for a mystifying, genre-bending read."
—Hannah May-Powers, Tulane Hullabaloo

"Riveting … Like the French philosopher Luce Irigaray, [Hval] explores ideas of what a feminist or radical language would sound like."
—Sukhdev Sandhu, Guardian
Verso Fiction, 9781788738958, 240pp.
Publication Date: October 6, 2020
About the Author
Norwegian writer and musician Jenny Hval has honed an intellectual and uncompromising view of politics and sexuality in her prose as well as in records that include Blood Bitch; Apocalypse, Girl; and Innocence Is Kinky. Her debut novel, Paradise Rot, was published to acclaim in 2018.