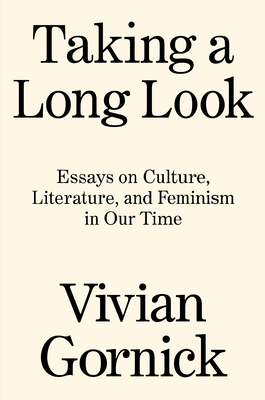 Taking A Long Look
Essays on Culture, Literature and Feminism in Our Time
Hardcover

* Individual store prices may vary.
Other Editions of This Title:
Paperback (5/10/2022)
Description
One of our most vital and incisive writers on literature, feminism, and knowing one's self

For nearly fifty years, Vivian Gornick's essays, written with her characteristic clarity of perception and vibrant prose, have explored feminism and writing, literature and culture, politics and personal experience. Drawing writing from the course of her career, Taking a Long Look illuminates one of the driving themes behind Gornick's work: that the painful process of understanding one's self is what binds us to the larger world.

In these essays, Gornick explores the lives and literature of Alfred Kazin, Mary McCarthy, Diana Trilling, Philip Roth, Joan Didion, and Herman Melville; the cultural impact of Silent Spring and Uncle Tom's Cabin; and the characters you might only find in a New York barber shop or midtown bus terminal. Even more, Taking a Long Look brings back into print her incendiary essays, first published in the Village Voice, championing the emergence of the women's liberation movement of the 1970s.

Alternately crackling with urgency or lucid with insight, the essays in Taking a Long Look demonstrate one of America's most beloved critics at her best.
Praise For Taking A Long Look: Essays on Culture, Literature and Feminism in Our Time…
"We all talk the talk about public intellectuals nowadays. Vivian Gornick walks the walk. The essays in Taking a Long Look could not be more direct, more authoritative, more alive with the pleasures of discovery or alert to the ambiguities of argument. Whether writing literary or political criticism, memoir, or feminist polemic, her mastery is assured."
—George Scialabba, author of How to Be Depressed

"[Taking a Long Look] is illuminating and a welcome addition to the astute critic's oeuvre."
—Publishers Weekly

"Vivian Gornick is more than a formidable intelligence, she's an entire sensibility. The essays collected here show how a mind shapes and becomes itself in engagement with the writers, thinkers, social facts and theories of her many days. The voice, at once her own and the expression of an entire culture—New York, working class, feminist, Jewish, both open-minded and skeptical—is a gift to be handed down from one generation to the next. "
—Marco Roth, author of The Scientists

"The lasting value of her work lies in her commitment to the question of what it means to feel 'expressive': to experience the feeling that tells a person 'not approximately, but precisely' who they are."
—Dayna Tortorici, The New York Review of Books

"Vivian Gornick is one of the most important essayists of all time. Whether writing on the self, feminism, isolation or politics, she is urgent, sharp-eyed and vital. A superb collection."
—Sinéad Gleeson, author of Constellations

"An engaging collection of sharp, lively essays."
—Kirkus Reviews

"Taking a Long Look is a magisterial volume of essays which span fifty years of cultural and feminist interrogation."
—Lauren LeBlanc, Observer

"An exhilarating trip."
—Elodie Rose Barnes, Lucy Writers

"Gornick's work is frequently an examination of the seams of history and her unflinching focus shows how things might have been shaped, and perhaps still could be."
—Morning Star

"Incisive."
—New York Times

"Magisterial."
—Lauren LeBlanc, Observer

"To read Gornick is to firstly fall in love with the act of reading … The closeness of her reading resembles an archivist collecting items to store, cataloguing little details invisible to others … In Gornick's hands, everything has a story to tell."
—Barathi Nakkeeran, Chicago Review of Books

"In having another occasion to consider Gornick, there are more opportunities to celebrate what makes her writing so distinctly her own—she is the rare writer who always wants to find, in a chorus, a voice."
—Haley Mlotek, Hazlitt

"Vivian Gornick's brilliant half-century writing career can't be captured in a single essay or volume. To engage with her writing is to be left wanting more of her writing."
—Liza Featherstone, Jacobin

"Reading Vivian Gornick often feels like watching someone paint: you're not sure, at first, what it's going to be, but you're happy to follow her brushstrokes as the picture emerges … Gornick repeatedly goes further, looks longer, risks more."
—Claire Lowdon, Times Literary Supplement

"Taking a Long Look [shows] Vivian Gornick's consistency as a searing writer and canny thinker."
—Nell Beram, Shelf Awareness

"Captivating. Through Gornick, we observe and understand the undertow of politics in an individual's everyday life; we glimpse pain, loneliness and hopefulness."
—Lynn Enright, Irish Times

"Gornick is well regarded as a stylist, and her sentences, elegant and precise, are sometimes complex but never unnecessarily ornate … [Her essays] are lively, well observed, and particularly recommended to students of 20th-century intellectual history."
—J. Oliver Conroy, The Washington Examiner

"Gornick has a sharp, authoritative mind and doesn't mince words."
—Michael Quinn, Red Hook Star-Revue

"Gornick never deals the simplistic, polemical blow; instead, she mines her own hard-won experience and profound and honest ambivalence about great writers (with great flaws) to illuminate their significance as well as our collective life and times."
—Melissa Benn, New Statesman ("Books of the Year 2021")

"This compulsive collection functions as a primer to a mind whose vitality is hard to match … [Gornick's] insights have lost none of their brilliance."
—Hephzibah Anderson, Observer
Verso, 9781788739771, 304pp.
Publication Date: March 16, 2021
About the Author
Vivian Gornick is a writer and critic whose work has received two National Book Critics Circle Award nominations and been collected in The Best American Essays 2014. Growing up in the Bronx among communists and socialists, Gornick became a legendary writer for Village Voice, chronicling the emergence of the feminist movement in the 1970s, and a respected literary critic. Her works include the memoirs Fierce Attachments--ranked the best memoir of the last fifty years by the New York Times--The Odd Woman and the City, and Unfinished Business: Notes of a Chronic Re-Reader, as well as the classic text on writing, The Situation and the Story.