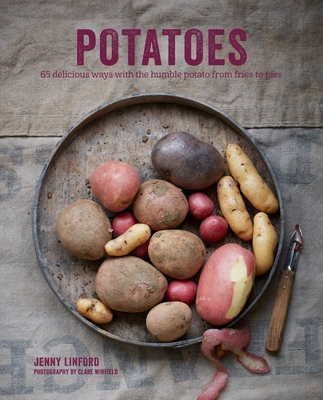 Potatoes (Hardcover)
65 delicious ways with the humble potato from fries to pies
Ryland Peters & Small, 9781788790284, 160pp.
Publication Date: October 9, 2018
* Individual store prices may vary.
Description
Discover the best potato recipes the world has to offer in 65 delicious recipes from soups to samosas; croquettes to chowders; curries to quesadillas; and pies to pierogi.

Potatoes are an inexpensive, versatile, and much-loved food. A staple in cuisines worldwide, the number of dishes that feature them is infinite. They are lower in calories than bread or rice yet satisfying to eat, are gluten-free in an increasingly wheat-intolerant society, and an excellent source of fiber, vitamins, and minerals.

This celebration of the humble potato traces its journey from cultivation 2,000 years ago in Peru to its introduction by the Spanish to the rest of Europe and its eventual spread to the colonies, including India. From the cult of the chip to the recipes of Mrs Beeton, from the modern-day Jersey farmer to the Irish potato famine, the potato has its place in both our history and our hearts. Offering 65 recipes featuring potatoes—from the classics to modern twists—this book presents a dish to suit every taste and occasion.
About the Author
Jenny Linford is a member of the Guild of Food Writers and author of The Tomato Basket, Garlic and Mushrooms (for RPS), The Chef's Library (for Abrams) and The Missing Ingredient (for Particular Books). Follow her adventures in food at @jennylinford and www.jennylinford.co.uk. Jenny lives in Hertfordshire.
or
Not Currently Available for Direct Purchase