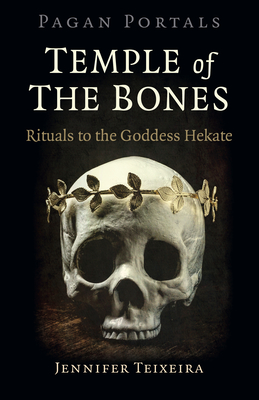 Pagan Portals - Temple of the Bones
Rituals to the Goddess Hekate
Paperback

* Individual store prices may vary.
Description
The Temple of the Bones is a gathering of witches, priest/ess/xes, and pagans under the dark of the moon to honor Hekate through public ritual. This book contains information on witching herbs, daily practices, moon magic and how the Temple seeks to strengthen community through the honoring of the dead. As they are, soon we shall be and their message often is to not waste your precious time on the things that do not serve your highest purpose. The Temple of the Bones encourages you to look into your own power. What wants to be brought to the surface? Are you using your strengths, or are you feeding your weakness? How are you creating magic in your own life with the wisdom of your bones?
Moon Books, 9781789042825, 112pp.
Publication Date: June 1, 2021
About the Author
Jennifer Teixeira (AKA Mme. Hummingbird & Bird) is a well respected Witch, High Priestess and Healer living in the California Redwoods. She has been a practicing witch since 1995, and in 2009 went forward on her priestess path with The Starflower Coven and The Amazon Blood Mothers of San Francisco Bay Area in California.