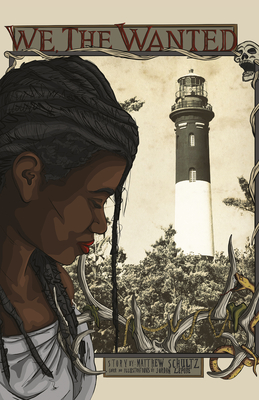 We, the Wanted
Paperback

* Individual store prices may vary.
Description
When famine emigrant Patrick Gallagher, secures passage aboard a transatlantic coffin ship from County Cork, Ireland, to the Grosse le Quarantine Station, Canada, he finds himself prey to a very different sort of hunger. Meanwhile, Ang le Paris D'Arcantel, a Vodou priestess, flees slavery and impending Civil War in New Orleans. She rides the Underground Railroad north along the Mississippi River to an abandoned lighthouse forsaken in the remote Adirondack wilderness at the brink of a vast, cursed forest and the harrowing bluffs of Lake Champlain. We, The Wanted is a fully illustrated novel charting the unverified and unverifiable mythologies of seemingly disparate folklores: Irish, Haitian, and Native American, that converge beneath the beacon of the Split Rock Lighthouse as a way of exploring the contemporary phenomena of disenchantment. Shining a light upon the mysterious and tragic history of the American Northeast and across the tortured generations who weathered its storm, We, The Wanted is a gothic tale of grim isolation, the consequences of (dis)belief, and the monsters that continue to lurk beyond the pale of civilization hoping to lure us into their darkness.
Cosmic Egg Books, 9781789043259, 202pp.
Publication Date: May 1, 2021
About the Author
Matthew Schultz is the Director of the Writing Center at Vassar College where he teaches courses on literature and writing. He earned his B.A. and M.A. in English Literature at John Carroll University and his Ph.D. in Literature from Saint Louis University. His previous novel, On Coventry is available from Harvard Square Editions. Matthew lives, teaches, and writes in the Hudson Valley, New York, with his wife, son, and Great Dane. Jordan Lepore received his MFA in Visual Arts degree from Lesley University in June of 2017. He currently resides in New York City, USA.