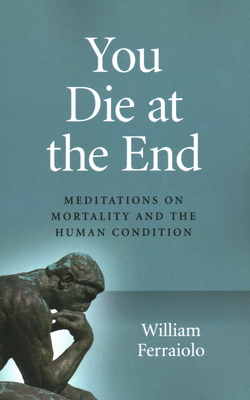 You Die at the End
Meditations on Mortality and the Human Condition
Paperback

* Individual store prices may vary.
Description
The fundamentals of a human's life on this planet have not changed very much over the millennia. The world is large and indifferent to the suffering of its denizens, its inhabitants. Perhaps there is a God who is not indifferent. Perhaps there is no such God. There are, however, people who suffer. Those people sometimes wonder about their suffering, their place in this world, and, forgive the expression, God knows what else. You Die at the End: Meditations on Mortality and the Human Condition is William Ferraiolo's attempt to contemplate a few elements of the human condition from the perspective of an individual, middling effort to manage a human life. Perhaps this will prove worthy of the reader's time and effort. The author hopes to be of service. The author frequently fails. Sometimes, the author blunders into a brief, useful moment of clarity. Read on to find out if this book serves as a useful blunder.
O-Books, 9781789043938, 376pp.
Publication Date: July 1, 2020
About the Author
William Ferraiolo received a Ph.D. in philosophy from the University of Oklahoma in 1997. Since then, he has taught philosophy at San Joaquin Delta College in Stockton, California. A practicing Stoic, Ferraiolo has published numerous articles in a variety of professional and academic journals. His first book, Meditations on Self-Discipline and Failure, was published by O-Books in 2017 and his second book, A Life Worth Living, will be released in early 2020. William lives in Lodi, CA.
or
Not Currently Available for Direct Purchase