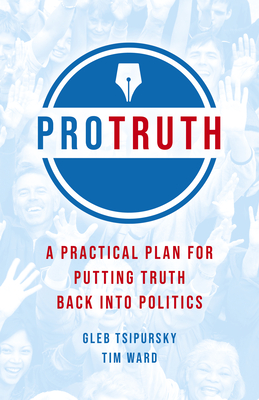 Pro Truth
A Practical Plan for Putting Truth Back Into Politics
Paperback

* Individual store prices may vary.
Description
How can we turn back the tide of post-truth politics, fake news, and misinformation that is damaging our democracy? First, by empowering citizens to recognize and resist political lies and deceptions: Using cutting-edge neuroscience research, we show you the tricks post-truth politicians use to exploit our mental blindspots and cognitive biases. We then share with you strategies to protect yourself and others from these threats. Second, by addressing the damage caused by the spread of fake news on social media: We provide you with effective techniques for fighting digital misinformation. Third, by exerting pressure on politicians, media, and other public figures: Doing so involves creating new incentives for telling the truth, new penalties for lying, and new ways of communicating across the partisan divide. To put this plan into action requires the rise of a Pro-Truth Movement - a movement which has already begun, and is making a tangible impact. If you believe truth matters, and want to protect our democracy, please read this book, and join us. Dr. Gleb Tsipursky and Tim Ward have teamed up to help citizens learn to protect themselves from lies, and empower them to put truth back into politics.
Changemakers Books, 9781789043990, 271pp.
Publication Date: May 30, 2020
About the Author
Dr. Gleb Tsipursky is the founder of the Pro-Truth Pledge (www.protruthpledge.com) and a well-known thought leader, best-selling author and scholar on fighting fake news, misinformation, and post-truth politics. He serves as the volunteer President of the Board of Directors of nonprofit organization, Intentional Insights, which popularizes truth-seeking, rational thinking, and wise decision making in politics, business, and other areas of daily life. He lives in Columbus, OH, USA. Tim Ward is the author of nine books, including Pro Truth, The Master Communicator's Handbook and the best-selling What the Buddha Never Taught. His travel stories have appeared in 13 anthologies, including several volumes of Traveler's Tales Best Travel Writing. Tim is the publisher of Changemakers Books. He also co-owns Intermedia Communications Training with Teresa Erickson, his wife and business partner. They live in Washington DC
or
Not Currently Available for Direct Purchase